Trendy Tuesday – Projects with Flair
by Katherine Elliot
When first approached to work on a trend article about "flair" I had to pause and ask precisely what she meant.  My only cultural reference for the concept of flair came from the 1999 movie, Office Space.  Flair is the term used for all the unique buttons that servers wore on their vests or shirts at the restaurant featured in the movie, and of course, those became a feature for laughs in the show.
Buttons from Office Space Box of Flair, image source Hollywood Reporter
 I don't know if flair persists in the restaurant service industry so much anymore, but sure enough, these unique, trendy buttons are considered flair in the paper crafting world!  The shiny buttons make quite an impact on projects and as you'll see today, many types of flair are available to coordinate with your favorite paper craft brands.
Laura Craigie shows off a fun style in her project using traditional buttons and flair in her circle inspired card.
Card by Laura Craigie, image source Paper Lulu
The flair on Suzanne Dahlberg's card also serves as the focal sentiment on her stylish creation…
Card featuring flair by Suzanne Dahlberg,  image source Freshly Noted
Brands like Simple Stories, Lawn Fawn, Prima Marketing, Paper Bakery, and Fancy Pants Designs are just some of the brands that offer flair to coordinate with their products.
Snap Studio flair from Simple Stories, image source Create for Less
Hello Card and Into the Woods Flair from Lawn Fawn
Combine flair with other embellishments to add fresh, unexpected elements to your project.  Scraps of Elegance blog posted some lovely pages featuring their September kit including Romy Veul's shabby chic page. Her page features vintage style flair from Prima Marketing along side more delicate feminine details of a doily, lace ribbon, feather, and flowers.
Shabby Chic scrapbook page by Romy Veul, image source Scraps of Elegance
 Delight Flair Buttons from Prima Marketing, image source Two Peas in a Bucket
Let's hear it for the boys!  Flair can be a terrific embellishment for your masculine themed projects, too.
Best Guy Ever card by Olga Vasilieva, image source Prima Marketing blog
Scrapbook page by Larissa Albernaz, featuring Prima Marketing All Star flair, image source Prima Marketing blog
 All Star Flair buttons from Prima Marketing, image source Two Peas in a Bucket
 The mix of textures on Ashli Oliver's card featuring flair from Paper Bakery look fresh and inspired.  The splatters, burlap, twine and flair combine to create a very artistic project… 
Card by Ashli Oliver, image source Paper Bakery
Oh Yeah Flair set from Paper Bakery
Paper Bakery offers many different sets of flair to coordinate with their scrapbooking kits.
Scrapbook page by Katrina Hunt, image source Paper Bakery Kits
Fancy Pants Designs has matching flair for many of their product lines, too, that are great for cards and scrapbooks.
Fancy Pants Designs Memories Captured Flair, image source Two Peas in a Bucket 
Card by Laura Craigie featuring Fancy Pants Designs flair, image source Paper Lulu
Oh, my!  How much flair I found once I started looking for it!  Several custom flair companies offer even more choices.  Panda Eight Designs and A Flair for Buttons are two companies I found with Etsy shops that offer an amazing array of flair to suit your fancy.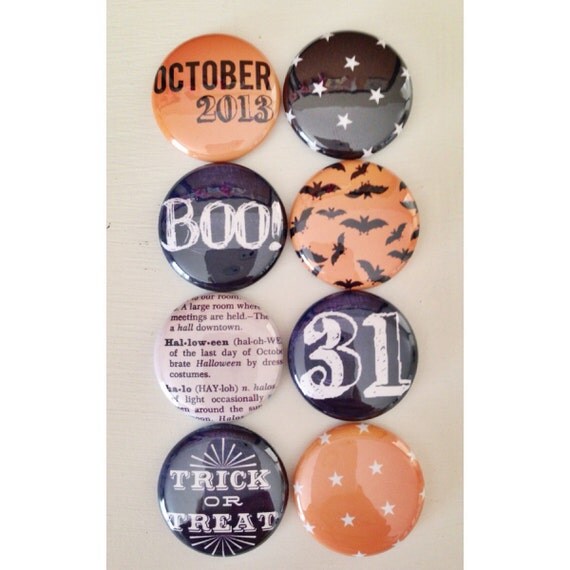 Panda Eight Designs Halloween badges, image source Etsy.com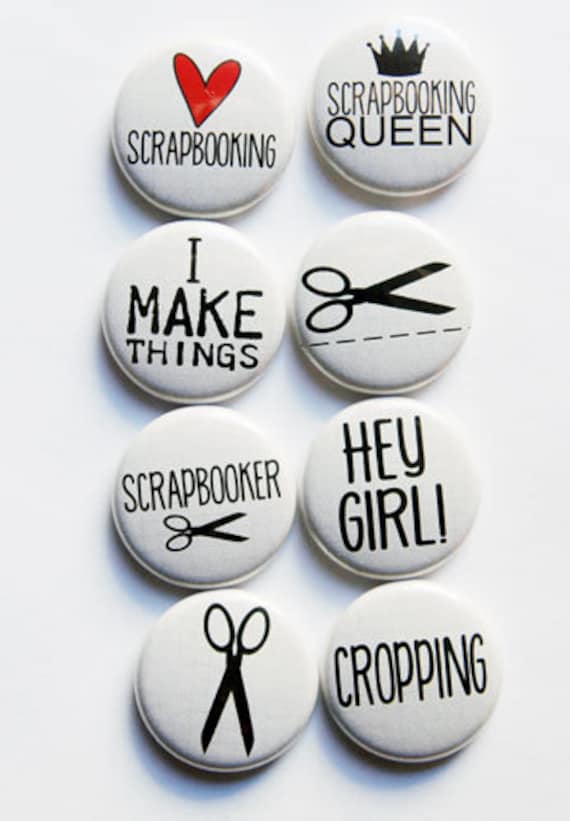 Scrapbooker Flair from A Flair for Buttons, image source Etsy.com
The blogs for Panda Eight Designs and A Flair for Buttons also had some fun DIY decor projects using flair. Check these out! 
Wall decor with flair, instructions and image source Panda Eight Designs blog
Corkboard decorated with flair, image source A Flair for Buttons
Using flair as decorative pins on a corkboard makes perfect sense if you find flair that includes an attached pin or alter your flair by adding a tack like they did for this project.  Most paper craft inspired embellishments are flat to make it easy to glue to your project, but I love the idea of sending someone a project with a detachable gift, and pinned flair could be such a fun way to do that.  Ready to add some flair to your project now?  Enjoy and happy crafting!