Trendy Tuesday – Portrait Silhouettes
by Katherine Elliot
Vintage style projects are composed of so many stylish images and embellishments it can be hard to choose one specific trend among all the beautiful creations.  To focus on just one trend found among these beauties though, portrait silhouettes may certainly grab your attention.  Several brands of products offer an array of silhouette images, many of which can be versatile additions to shabby chic or other modern designs.
Vintage style tag using Tim Holtz stamp set, image source Scrapbook.com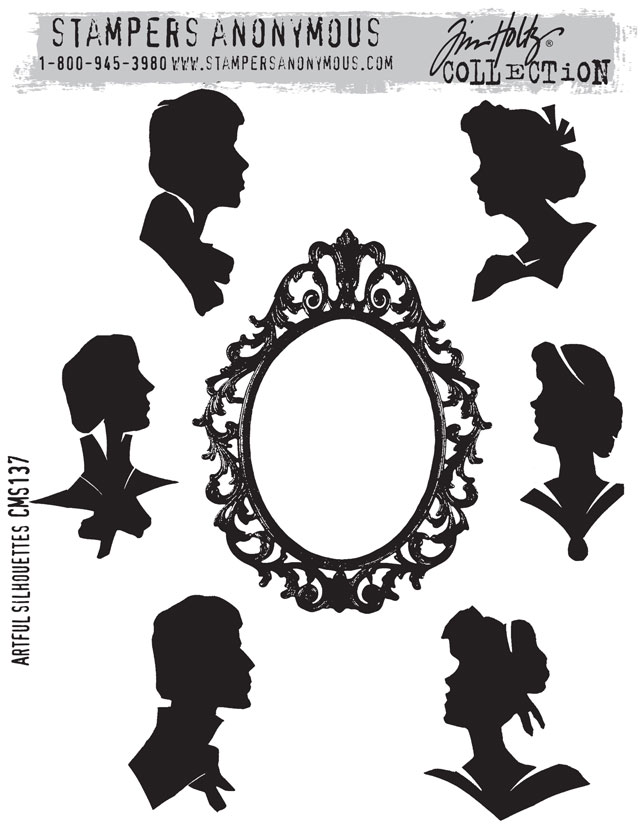 Artful Silhouettes stamp set from Stampers Anonymous, image source timholtz.com
Cameo silhouettes can be perfect for vintage style creations or used more simply for personalizing a project for your home or a family tree.
Family album featuring silhouettes, image source Maya Road.typepad.com via Pinterest
Creative ideas need not be limited to paper crafts.  Jewelry charms personalized with names make lovely keepsake gifts.
Maya Road portrait charms by Lisa Pace, image source Two Peas in a Bucket Gallery
Dress up a personal journal with bold silhouettes and as many embellishments as you desire.
Project by Emily Branch, image source Emily Branch Designs
Rub-ons or die cuts are good options if you are looking for a single use image.  Jenni Bowlin Designs has a few choices you may find perfect for your project.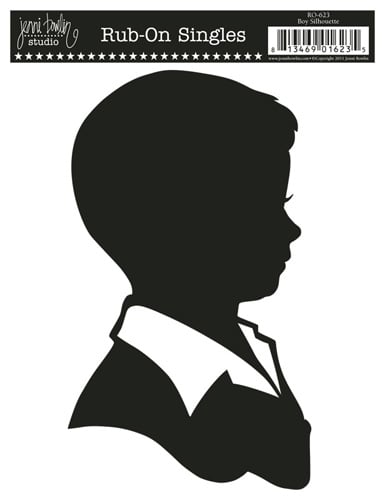 Jenni Bowlin Studio Rub-On woman & boy, image source Scrapbook.com
Tag using a Jenni Bowlin Design silhouette by Christy Connors, image source Hokie Coyote Blog
 The traditional scrapbook page cannot go left unnoticed.   Engagements, weddings, or anniversaries, are perfect occasions to employ the use of a lovely cameo or silhouette image or two.  Digital images and regular stamps offer options limited only by your imagination.
Scrapbook page featuring digital images from the Haven Collection, layout by Roelien van de Berg, image source Jenni Bowlin Design Blog
Basic Grey"s True Love stamp set includes some versatile images along with a classic silhouette.  Marilyn Rivera"s scrapbook page using this collection looks like the perfect blend of fresh color, fun details and shabby chic distressing.
Scrapbook page by Marilyn Rivera, page features Basic Grey True Love collection, image source Treasuring Memories
Basic Grey True Love Clear Stamp Co branded with Hero Arts, image source Two Peas in a Bucket 

Looking for some inspirational card ideas?  Hero Arts" Three Silhouettes, stamp set is available in both digital die cut format and as a traditional stamp.  The pretty blue image looks fresh and crisp on this beautiful card by Kandis…
Card by Kandis, image source Two Peas in a Bucket
A silhouette can be more than just a cameo, or outlined face.  Solid images of  human figures in different poses and styles are great silhouette options as well and can be tailored easily to different styles and projects you have in mind.
Our Daily Bread Designs shows off a sweet childhood scene in this card using their stamp set, Little Girls…
Card by Chris Olsen,  image source Our Daily Bread Designs
Silhouette Women card by Pam Sparks using Hero Arts stamp and a Marianne Designs die, image source Expressions with Heart
And for our mixed media moment of the day, a silhouette image from Stampers Anonymous looks artsy and modern on this decorative wooden plaque….
Created by Sam, using Creative Muse stamp from Stampers Anonymous,  image source Bugger Bugger"s Blog
Marianne Design Creatables Die, Baby Cameo, image source ucutathome.com
Dies for your favorite cutting tools give you many options for silhouette images, too.  Find silhouette images in the form of steel rule dies or cartridges and downloads for electronic cutters.  Here are just a couple more examples of creations using tools from Cricut and Lifestyle Crafts.
Card featuring die cut from Cricut Cartridge, A Child"s Year, image source Nonna"s Craft Corner
Santa Silhouette card featuring die cuts from Lifestyle Crafts, image source Doodlebugs
 Perhaps you may even be skilled enough to try your hand at a truly customized scene from a personal photograph like the beautiful custom silhouettes created by Marisa Roberts-Hauptman.  This silhouette couple looks chic and modern and the die cut landscape is beautiful, too.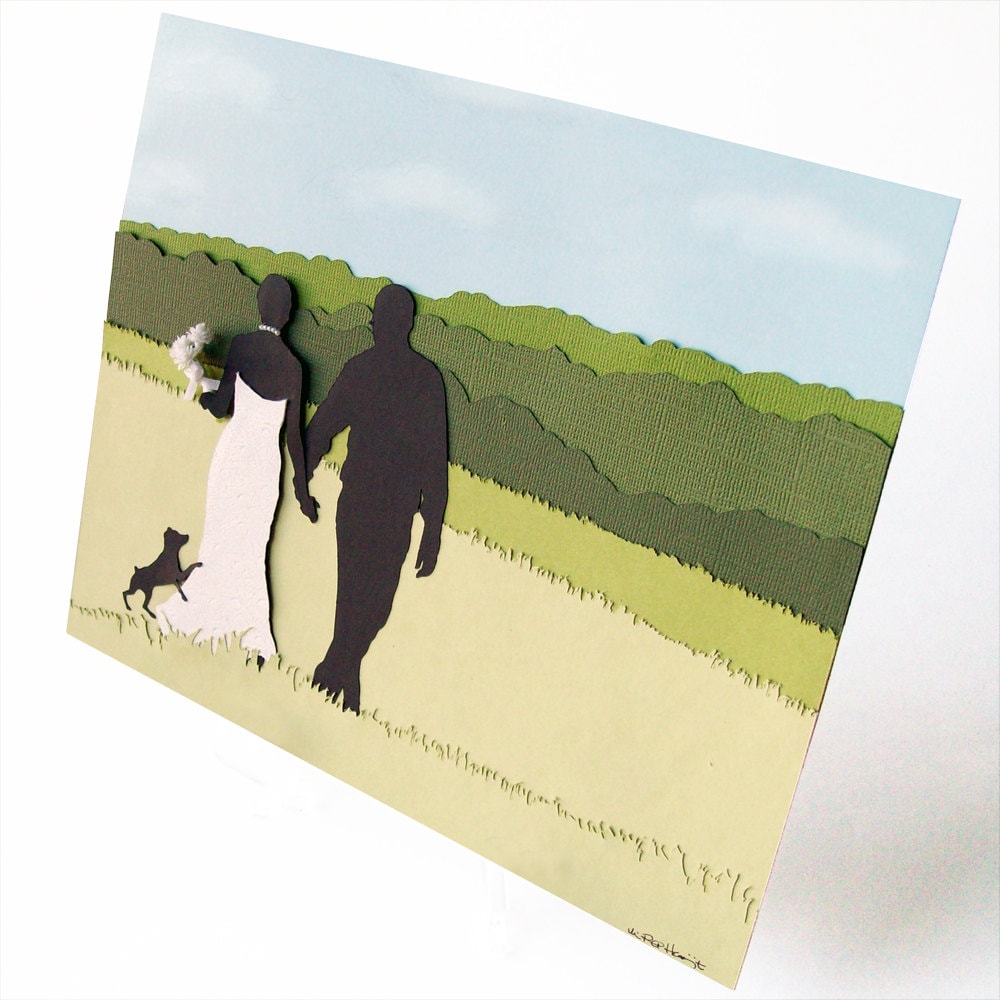 Custom cut die cut card by Marisa Roberts-Hauptman, image source Etsy.com
Are you ready to start comparing your family photos with some of these images, or line everyone up for their best profile mugshot?  If your family protests, don"t tell them I suggested it.   Hope you were inspired and enjoyed today"s post.  Happy crafting, everyone!