Trendy Tuesday – Paper Craft Pumpkins
by Katherine Elliot
It's pumpkin time!  Even if you will not be putting out a jack-o-lantern for Halloween this week, this seasonal decoration is a great project for fall home décor.   If you had a chance to visit the Library's blog earlier this month and see featured artist, Miranda Edney,  then you may have had the opportunity to see her beautiful creations including these amazing pumpkins. Miranda's sturdy, honeycomb pumpkins look great for any season.  The details on all her pumpkins are amazing.
Paper craft pumpkins featuring Graphic45 papers by Miranda Edney, image source Ms Liberty Creations
Paper craft pumpkins with surprise inside, by Miranda Edney, image source Ms Liberty Creations
Another crafter, Amanda Formaro, created a simpler version of a standing 3-D pumpkin.  She has a quick tutorial for her small project that makes great use for any of your leftover scrapbook papers.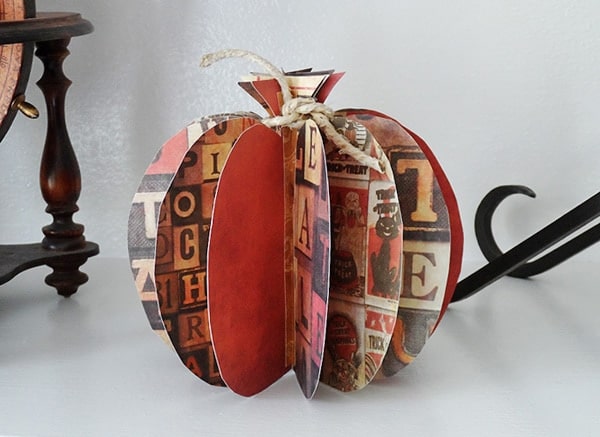 3-D Pumpkin by Amanda Formaro, tutorial and image source at Crafts by Amanda
Any color of paper scraps may come in handy to make quick, last minute autumn decorations.  Look at these paper pumpkins that transform thin strips of paper into a colorful pumpkin display.
Colorful paper pumpkins, image source Better Homes and Gardens
Kids may enjoy assembling a few small paper strip pumpkins, too.  The simple assembly of mini paper pumpkins could be a fun craft for a party.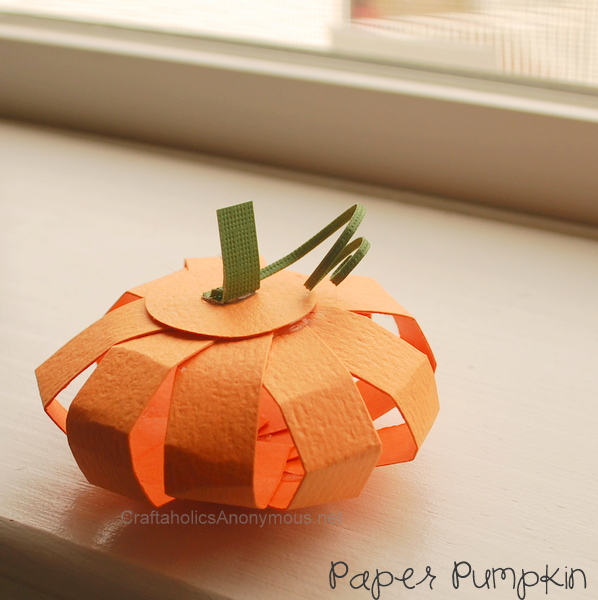 Mini paper pumpkin, tutorial and image source Craftaholics Anonymous
 Make something special and decorate some candy worthy of a paper crafter to hand out this week.  Check out Jill Coleman's creative Tootsie Roll Pop pumpkin decorations…
Pumpkin Tootsie Roll Pop Treats by Jill Coleman, tutorial and image source Jill Stamps
  Maybe one piece of candy is not enough?  Treat anyone special with a fun surprise or two hidden inside a pretty pumpkin box.  Sue Kment and Jody Warner created these boxes using a stylish
Snapdragon Snippets design for Silhouette
, cubic 3-D pumpkin kit.
 Pumpkin boxes by Sue Kment, image source Sue's Stamping Stuff
Geometric 3-D pumpkin by Jodi Warner, tutorial and image source Needles n' Knowledge 
 Make use of the supplies you have on hand to decorate a real pumpkin.  You can use pre-made or roll machine type die cuts, or hand cut some paper to transform real pumpkins into a paper craft enhanced decorations. There's no carving necessary for the cut and paste decorations Ellen Taylor created for her Halloween projects.
Paper die-cut decorated mini-pumpkins by Ellen Taylor, image source The Serendipitous Stamper
Any of your other trendy craft supplies make great decorations for a pumpkin, too.  There's plenty of decorative washi tape to choose from to make quick work of adding colorful stripes to a craft pumpkin.
Washi Tape Pumpkin, image source Sugar Bee Crafts
Need some last minute party favors?  Find some small orange paper bags, get some trendy colored duct tape and some pipe cleaners and start stuffing handfuls of candy into these fun paper bag pumpkins Lea Sanders created…
Pumpkin bags by Lea Sanders, image source Lea's Papercrafting and Photo Blog
  Pumpkin decorations can last well into the later months of fall, so you still have time to create some decor for around the home.  The unique style and handmade quality of a paper quilled pumpkin could certainly impress a few guests.
Quilling pumpkin decoration, image source Spoonful.com
 If you've realized you missed your chance to pick out any pumpkins at the store, then there's one thing everyone's sure to have on hand…toilet paper!  Some scrap fabric makes simple decorations out of this item I'm guessing everyone has at home.
Toilet paper pumpkins, image source Spoonful
Ah yes, the paper crafting aspect of this last project is hidden inside… but what a great way to spoof any would-be Halloween tricksters and hide the toilet paper in a decorative fashion!  🙂 Have a safe, fun Halloween.  Happy crafting, everyone.