Trendy Tuesday – Ombre
by Katherine Elliot
Ombre, or the graduation of color from light to dark (or vice versa), is a popular trend in hair color, fashion, and home decor, so of course it"s popular in the paper crafting industry, too.  You may remember this Paper Crafters Library post sharing this beautiful card by Karen Baker from May Arts…
May Arts Ribbon card by Karen Baker, image source Paper Crafters Library
Ombre (pronounced "ohm-bray") can be accomplished in many different ways as today"s examples will show.  Different colors of ribbon, embellishments, paper and ink are all great ways to create the ombre effect you want to achieve.  Don"t have a lot of different shades of ribbon or trim on hand?  You can always dye a neutral color trim by misting, inking, or sponging with your own inks to create your own custom embellishment.
Card featuring dyed flower trim from Stampin" Up! by Lydia Fiedler, image source Understand Blue
Ombre ribbon on canvas for a Maya Road mini album by Ania, image source Little Corner of Ania
Maya Road mini organza roses trim was used on the projects, stained to create the beautiful ombre effect on Ania"s projects.  Check out her Maya Road Design Team post to read how she customized the white trim.
Ombre flower box decoration and basic instructions on dying the trim by Ania, image source Maya Road Design Team
Stamping a repeated image in gradual tones of similar colors can also give you a nice, subtle ombre effect.  Papertrey Ink"s new set of Ikat design stamps seem very well suited for this extremely decorative technique.  Hmmm… do we sense another potential trend?  What do you think?
Card by Jessica Witty, image source Jess Witty blog
Inking directly on paper may be the most dramatic way to create an ombre background.  Check out these well executed projects that show how pretty your inks can stand out on their own…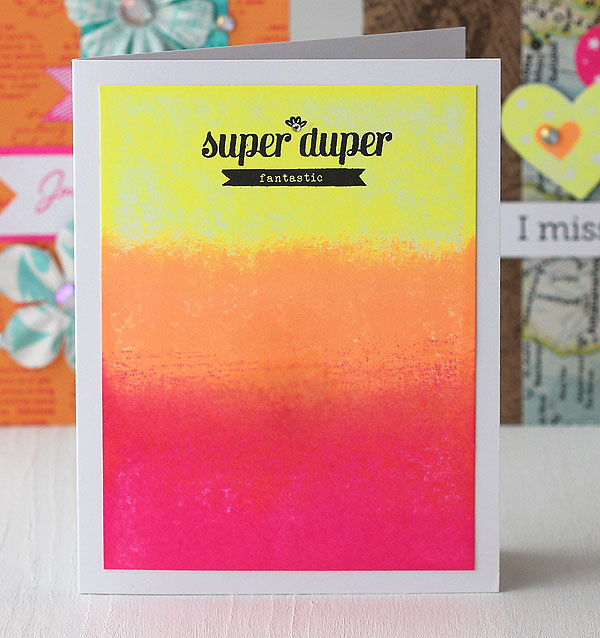 Ombre Neon card by Lisa Spangler, image source Sideoats & Scribbles
Card by Dawn Wolestagle, Stamp Away with Me
W Plus 9 Design Studio, LLC, image source Stamp Away With Me
If an entire background of color overwhelms the project you have in mind, use the direct ink coloring technique to color a bit of paper then cut or punch shapes and adhere in the order of  shades of color you desire.
Card by Dawn Wolestagle, Stamp Away with Me
Annette Witherspoon had a terrific idea to create an ombre design.  She re-purposed some paint color samples (you know, the color samples you find at your home improvement store in the paint department) and adhered the colorful strips on her love themed card.
Ombre Love card by Annette Witherspoon, image source Splitcoast Stampers
The same effect can be made by using your cardstock, of course.  The yellow chevrons on this project were cut and adhered for a fresh, modern look on these grey and yellow projects, great ideas for both for scrappers and card makers.
Ombre Chevrons by Xanthippe, image source Two Peas in a Bucket gallery
Maile Belles used a wide washi tape with a lovely blue to green ombre effect in her Studio Calico project. The wide washi tape was offered in a Studio Calico Front Row kit available this month.  I"ve not seen the washi tape sold separately, but I sure hope to find one like this soon.  Isn"t it lovely?
Card by Maile Belles featuring wide ombre washi tape, image source Simply Stamped
While the washi tape may be elusive for now, you can find other Studio Calico items with an ombre effect, such as their vellum ombre frames, and Sundrifter papers.
Studio Calico Ombre Vellum frame, image source Studio Calico
Sundrifter Sunbeam Vellum from Studio Calico
Digital scrapbook papers also offer ombre options.  The dip dye paper from Sarah Stearns has a very authentic ombre dye effect.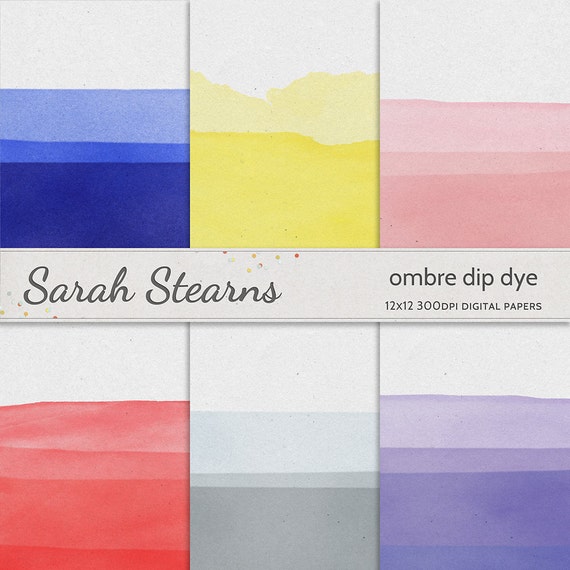 Ombre Dip Dye digital scrapbook paper from Sarah Stearns, image source Etsy
Looking for other embellishments?  Ribbon, twine and glitter offer more even ombre options.
Ombre paper twine, image source Beautiful Revelry
Handmade glitter strips, shown here in graduated colors of pinks & reds, provide some sparkle to your ombre project.
DIY Ombre Glitter tape by Tan, instructions and image source Squirrelly Minds
Other home decor projects are also great for paper crafters.  Check out these samples and the DIY posts for the instructions on how you can add one of these trendy items to any room in your home.
Ombre Chevron Braided Paper DIY project, image source Not Without Heels
Ombre Paper Garland, image source Royal Marigold
See even more Ombre Crafts Projects for Home Decor at Martha Stewart Crafts, or be inspired by the scraps in your stash or seasonal items in your local craft store.
St. Patrick"s Day decoration from Hatter and Hare Events, image source Life in Wonderland
Ombre projects can help take some of the guess work out of color choices for your project.  Undecided about what colors complement each other best?  Just choose different shades of the same color.  Easy choices make for quickly made projects, and you"ve gotta love that!  That"s all for now my paper crafting friends.  Enjoy and happy crafting!