Trendy Tuesday – Ikat Patterns
by Katherine Elliot
Ikat patterns have been trendy in home décor and fashion for some time, so it's no surprise the style has carried over into the creative paper crafting world.  Most ikat patterns are designed to look like the colorful, woven styles of traditional textiles from Southeast Asia or other exotic parts of the world.   The patterns can be varied and designed in any color scheme so this trend easily becomes enticing for any craft enthusiast.
Ikat design on throw pillow, image source
While most people simply see these patterns while shopping for clothes and home furnishings, I found several brands that offer options for you to ink up some stamps to create your very own fashionable ikat patterns on your paper craft projects.   Companies that stand out with impressive stamp collections to share today include Avery Elle, Papertrey Ink, Unity Stamp Company and WPlus9.
Card featuring Avery Elle Ikat stamps, image source Avery Elle.com
Card by Heather Campbell, image source Avery Elle blog
 Avery Elle Ikat Clear Stamp Set
Ikat Additions, Avery Elle.com
 Using a variety of colors when you use ikat pattern stamps allows you to coordinate your project with any of your favorite color inks and cardstock.
Card by Dawn McVey featuring Irresistibly Ikat stamp set from Papertrey Ink, image source Raspberry Suite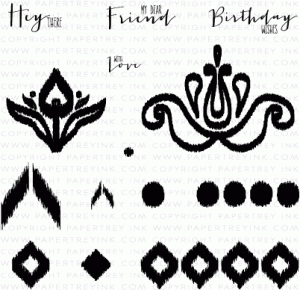 Papertrey Ink Irresistably Ikat Stamp Set
Card by Nichole Heady, image source Capture the Moment  featuring Irresistably Ikat
An ikat background can be easy to create with a single color as well.  You may also find it easier to complete your project with a larger background stamp. Unity Stamp Company has several choices if ikat style stamps including a smaller stamp included in the Unity Stamp S.M.A.K. Kit from April 2013, and larger background stamps from collections designed by Liz Hicks and Christy Tomlinson.
Card by Angie Vandenbogaard featuring stamp from Unity Stamp SMAK Kit from April 2013, image source Part Time Creative
Card by Jimmi Mayo featuring Ikat Background stamp designed by Liz Hicks, Unity Stamp Company
I Kat Love stamp from Unity Stamp Company
Relatively new to the stamping scene (to me at least), are the stamps and products offered by WPlus9 Design Studio.  WPlus9 started in 2010 and they offer some delightful stamps including, of course, an ikat pattern, mix and match, background set.
Check out the lovely designs some of the WPlus9 artists created with this stamp set…
Card by Sarah Martina Parker, image source W Plus 9 Design Studio
Card featuring ikat background using WPlus9 stamps, image source WPlus9.com
Ashley Cannon Newell consistently has a fresh approach to any trend.  Her lovely neutral based card, using stamps included in a recent Studio Calico kit, shows off a simple ikat pattern with a dark, neutral color ink.
Card by Ashley Cannon Newell, image source Studio Calico Gallery
Not ready to add too many additional stamps to your supplies for this trend?  A small kit may be right up your alley. A Studio Calico kit is a great way to order a variety of trendy products in just one click.  Besides the small ikat stamps, this SC kit has some fun and trendy wood veneer diecuts, buttons and sequins.  These kits are great for cardmakers and scrapbookers!
Studio Calico Jennifer Add-on Scrapbook Kit
Scrapbook page by Nicole Samuels featuring ikat stamped accents from Studio Calico kit, image source Two Peas in a Bucket Gallery
Can you find other scrapbook options for this trend?  Yes, you can, although it seems easier to find digital ikat patterns than the paper versions.   Bazzill Basics patterned paper and digital patterns from Nan Scott Design Studio offer some options to consider.
Bazzill Basics Ambrosia Feather Berry/Ikat Scrapbook paper
Digital scrapbook paper, image source Nann Scott Design Studio
 If you are loving the bold designs and patterns you see, you may get so attracted to the style you'll want to combine your crafting skills with some DIY home décor…
Mod Podge Ikat Clock, image source and instructions from Mod Podge Rocks
Thanks for reading today's post.  Hope it was as inspiring as it was colorful to assemble for your reading pleasure. Happy crafting, everyone!