Trendy Tuesday – Going Digital
by Katherine Elliot
Caution – addiction alert!  Today we're going to focus on a growing trend and easily addictive craft – digital scrapbooking and designs.  Digital scrapbooks are increasingly popular.  They can easily be shared via electronic media and conveniently preserved on your computer hard drive, removable storage device or disc.  Many paper craft fans recognize this digital crafting outlet  is not a replacement of traditional hardbound scrapbooks or paper craft projects, but used as an extension of the craft and as a tool to expand your design capabilities.  If you're not familiar with this trend, then sit back and take a look…
You can create digital scrapbook pages using various tools and different computer software, like Adobe Photoshop or other companies' downloads and on-line tools.  PCL's very own, Andrea Walford, recently showed off one of her digital scrapbook creations on her blog.  Check the link to Andrea's blog to read all the tools she used to create this page.  Andrea also plans to offer some digital crafting tutorials, so be sure to bookmark her blog to check for those soon!
Digital scrapbook page, image source Andrea Walford blog
Browse project galleries at sources like Two Peas in a Bucket to view many talented digital crafters' creations.   Layers of digital papers, borders, embellishments and your own digital photos combine to create beautiful layouts for pages to treasure for years.  You may choose to print your design to add to a traditional bound album or simply post and share digitally on your favorite social networking site.  Kelly Middlebrooks shares a cheerful design with lots of trendy digital touches on her page shown here…
Be True digital scrapbook page by Kelly Middlebrooks, image source Two Peas in a Bucket gallery
A quick internet search for "digital scrapbooking" will show you many sources offer downloads to use in digital design and crafting.   There are stamp brush sets (or digital stamps), digital papers, embellishments, borders, and fonts.  Digital kits offer coordinating items to take the guess work out of combinations, but you'll probably find it easy to mix and match items to create your own digital style.
Super Ava scrapbook page featuring digital designs by Megan Turnidge, image source Scrap Orchard
Incredible You digital scrapbook kit designed by Megan Turnidge, image source Scrap Orchard
Hobbiton scrapbook page and Carefree Days digital kit, image source Amy Teets Designs blog
Downloads are available for relatively small fees for your private, personal use and some downloads are available for FREE,  just use common sense to download items from sites you trust.
Enhance your digital options even further by expanding your collection of unique fonts.  Check out sites like Kevin & Amanda.com or  Dafont.com to expand your font library.  For more papers, stamps and embellishments, check out A Cherry on Top and Graphics Fairy for some fun, free digital graphics to use in your crafts, too.
Font selections from Kevin&Amanda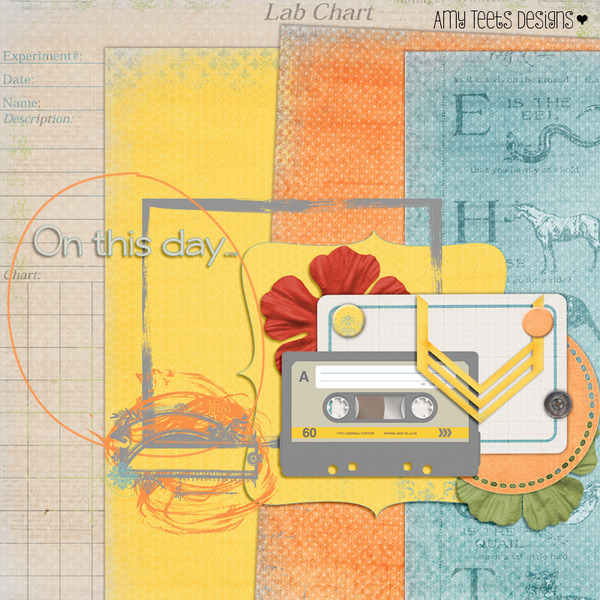 On This Day, mini digital collection, image source A Cherry on Top
You will easily find a variety of sources for "how to" instructions to get started and kits that include templates to help you with your creations.    Check out information from a source like Designer Digitals, or the specific instructions intended for the software or download you plan to use.  For most digital applications, you'll find no shortage of on-line help to get you started and improve your skills.
Digital Project Life, lessons and image source from Jessica Sprague.com
Several companies offer software to create custom digital scrapbooks and ready to print projects.    Creative Memories'  Storybook Creator can be used for digital and printed photobooks.
Story Book Creator software, image source Creative Memories 
Photo book cover, image source Project Center Creative Memories
Designs created with these digital tools can be used in a variety of projects such as home decor, calendars, gift tags, cards, recipe books, and more.  My Digital Studio from Stampin' Up! offers downloads to create designs that coordinate with their company's line of products.  They, too, offer professional printing services if you wish to have your creation published to  be used as a keepsake for friends and family.  You can also simply download digital stamps and designs to use with any other compatible design tools installed on your computer.  Even My Digital Studio has some freebies!
My Digital Studio scrapbook page, image source My Digital Studio
Bound recipe book using My Digital Studio & professional printing service, image source My Digital Studio.net
Several photo print or photo sharing sites also offer easy click and go options to create custom photobooks, cards and projects.  Check out places like Smilebox and Shutterfly for some pre-designed projects just waiting for your personal touch.
Beyond digital creations and printed projects, you can use digital designs for "hybrid projects."   Hybrid projects combine digital designs you print to use with your traditional paper craft projects.  Check out this beautiful, vintage style altered box that was created using traditional crafting tools and printed items from a Scrap Girls Digital design kit.
DIY altered box image and tutorial from Scrap Girls blog
Brookside Manor Collection, digital collection from Scrap Girls Digital Scrapbooking
Once you start playing with some of the software and design elements for digital crafting, you may find the hours go by very quickly.   As you play quietly on your computer, friends and family may politely ask you "what have you been up to for hours on end?"  With a wide range of digital scrapbooks, photobooks, cards and other projects, you'll have fun things to show off in no time.  I personally enjoyed creating my own digital album to share with my husband on our anniversary.  I didn't print the album, I just popped in the SD card where I copied it into the slot on our digital television and showed it off as a slide show on the big screen. Inspired?  I hope so!  Happy digital crafting everyone!