Trendy Tuesday – The Magic of Disney
by Katherine Elliot
It"s not a surprise that many paper crafters are under the spell of Disney"s Magic Kingdom.  I have fond memories of family vacations spent at Disney theme parks, and the memories still warm my heart. While it"s a great place for creating magical family memories, you too can capture some of that magic in your crafts using Disney themed paper craft products.
Scrapbook page and image source Queen & Co.
Family memories of a trip to Disney can be displayed in a more decorative fashion using a printer tray or shadow box.  Disney themed embellishments and favorite photos make this a wonderful decoration to share….
 Disney shadow box by "Scrappy Cath" image source Scraps of Life
Even if you are not scrapping a trip to one of the theme parks, there are Mickey Mouse fans of all ages, so why not prepare a fun card or make fun crafts for a Disney theme party?
Magical Day card and image source simply caffeinated
Mickey Mouse ears are easy to add to your Disney themed project.  There are tools like punches, dies, and electronic cutter cartridges, just to name a few, that are specifically designed for Disney.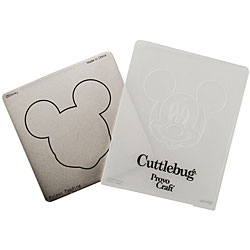 Mickey Mouse 3×3 Cuttlebug die, image source Overstock.com       
                           EK Success Disney punch, image source shopping.com
You can also create your own mouse ear shapes using circle punches, like the balloons featured in this Disney themed birthday card…
Disney birthday card, image source The Plains Stamper
 Punches are wonderful tools for creating your own custom shapes.  Taking Disney punch art to an amazing level of creativity and expertise, Sharon White created these fantastic punch art Disney characters.  How many of the shapes do you recognize from your own stash of punches?  I bet you"ll recognize a lot!
Punch art Disney characters, image source Sharon"s Scrappy Space
Snow White birthday card by Sharon White, image source Sharon"s Scrappy Space
Another trend you may have seen lately is using negative die cut shapes, the empty space left after punching out a shape from your cardstock.  Mickey Mouse ears look great using this technique.
Kay Kalthoff used the remaining punch shapes for decorating the interior of the card, too.
Circle punch Mickey Mouse card image source Stamping to Share
The next card used a Cricut cartridge to cut the Mickey & Minnie shapes and features the signature Disney font.   Search on-line using your favorite font source to find a Walt Disney font to add a little extra magic to your scrapbook pages or cards.
Mickey & Minnie anniversary card and image source Kreative Korner by Kelly
Cricut cartridge die cuts and the Disney font were used to create and decorate these fun character invitations, too…
Goofy Invitations by Lisas Handmade Cards
For some of us interested in finding a few simple Disney theme things to have in our paper crafting stash, there are Disney themed stamp sets, stickers and papers to match.  EK Success appears to be the most common brand for licensed Disney products.
Disney clear stamps from EK Success, image source Overstock.com
 EK Success scrapbook paper, image source Scrapbook.com
Queen and Co. also has some fun Disney embellishments including bling and washi tapes.
 Queen & Co. shaped bling, image source Scrapbook.com
So are you a Disney fan or do you know one?  In my latest Pinterest stalking, I just happened to find one other fun Disney theme item to share. Oreos and mini Oreos create those famous mouse ears on this Disney themed cupcake tower- what a great addition to any theme party. Love the little Minnie Mouse ribbons, too.  So cute and yummy!
image source artsyfartsymama.com
 Hope you enjoyed seeing the Disney projects these talented crafters have made.  They are certainly crafty "Imagineers!"  Have a magical day, everyone!