Trendy Tuesday – Cowboy & Western Motifs
by Katherine Elliot
Let"s take a quick trip back to the thrilling days yesteryear…  With a hearty "Hi-Yo, Silver!", here are some fun projects inspired by images from the Old West that are perfect for a boot stomping good time.  Western theme images and sentiments are great for masculine projects or for any young cowboy or girl.
Card by Karen Giron, image source kgiron.blogspot
The wild western theme projects shared today have  many common bonds.  Most projects have images of boots or horses and are decorated with wood grain patterns, rustic metal, and twine accents.  Several great stamp sets offer a variety of options with these images from companies like My Favorite Things, Kitchen Sink Stamps, Stampin" Up! and Unity Stamp Company.
Inspired by the Wild Wild West stamp set, My Favorite Things
Card by Jodi Collins, image source Stamping a Latte
Howdy stamp set, My Favorite Things
Kitchen Sink stamps are known for their highly detailed and realistic multi layered stamped images.  In the stamp set shown below, layered boot shapes stamped in sequence with different shades of progressively darker ink will give you amazing results.
 Multi Step Cowboy Boots, Kitchen Sink Stamps
Card by Lisa Somerville, Kitchen Sink Stamps gallery 
Monica Weaver shares her unique & attractive style and talent with metal sheets that were embossed and layered on her card featuring the majestic horse from Stampin" Up!"s set, Horse Frontier.
Card by Monica Weaver, featuring Horse Frontier stamp set from Stampin" Up!, image source Add a Little Dazzle
Stampin" Up Horse Frontier stamp set
As many Paper Crafter"s Library members are likely practicing their brayer skills with the on-line brayer class, I hope they"ll enjoy seeing this beautifully brayered and sponged landscape gracing Michelle Zindorf"s Horse Frontier card.  Check the link on her project to see how she created this custom silhouette image from the same Stampin" Up! set featured above.
Horse Silhouette card by Michelle Zindorf, detailed instructions and image source, Freedom in Creating
A little encouragement is all you may need to bring out your inner cowgirl (or cowboy).  Unity Stamp Company"s Brave Girl Boots stamp set includes some uplifting sentiments that may even temp those folks not always feeling the cow-town spirit.
Card featuring Unity Stamps, image source Unity Stamp Company
Brave Girl Boots stamp set from Unity Stamp Company
Images of boots or a horse are NOT required to create a card with a western motif. The western style thank you card Nikki Bond created below shows a way to capture the spirit of the trend with other stamps not specifically designed around a western theme.  A lovely earth tone color scheme, distressed edges, and twine lasso embellishment provide a beautiful dusty, western look.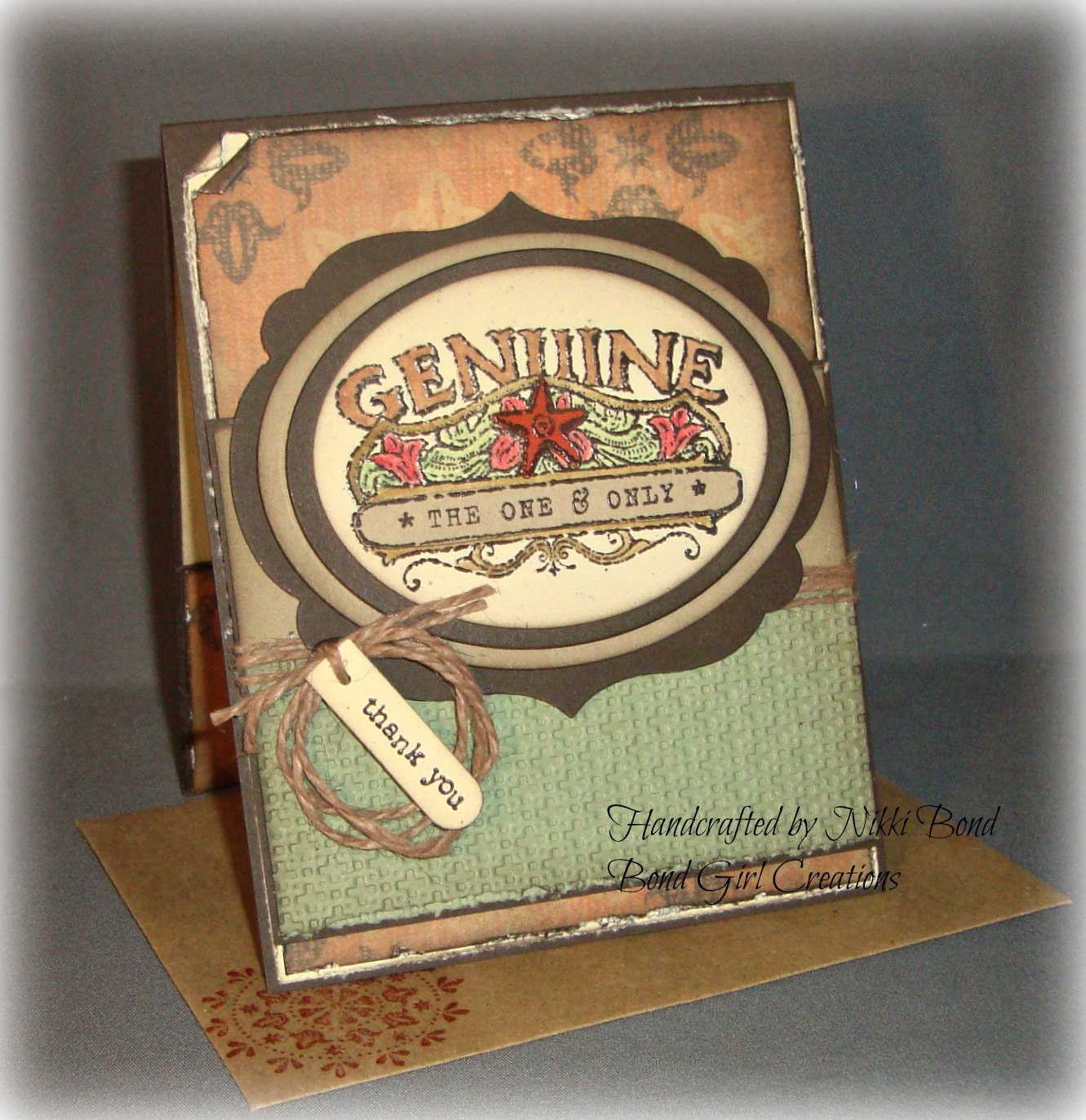 Card by Nikki Bond, image source etsy.com
 And now for something a bit different, something PINK!  Yes, country girls can still enjoy pink on their projects with Carta Bella"s Giddy Up! Collection. There is a Giddy Up! collection intended for boys, too, in more traditional cowboy colors, but the pink stands out on the fun home decor & 3D projects the company designers are sharing on their blogs.  Check these out…
Country Girl frame project by Patricia Roebuck, featuring Carta Bella Giddy Up, image source Carta Bella Paper 
3-D boot by Tamara Tripodi, image source Happy Life Crafty Wife
Keep reading to find out where you can find the 3D boot template…  As a plus for digital crafters, Carta Bella offers both traditional scrapbook papers and digital versions of  some of their collections.
Carta Bella Digital Kit, Giddy Up Girl Collection, image source Carta Bella Paper
Cosmo Cricket"s Honky Tonk collection was used in the next decorative frame project.  The Honky Tonk Collection includes stamps, papers, and embellishments with trendy colors, patterns, and fun sentiments .
 Cosmo Cricket Honky Tonky collection, stamps and stickers, image source Cosmo Cricket
Country Girl frame, image source  Cosmo Cricket blog
Stickers can make quick work of adding a western theme element to a project like the cowboy stickers from Karen Foster Designs and Jolee"s Boutique.
Karen Foster Cowboy Collection cardstock stickers, image source Scrapbook.com
Jolee"s Boutique Rodeo Stickers, image source eksuccessbrands.com
Sizzix brand dies offer even more western shapes that would be fun to use.  Are you familiar with the road runner cartoons from Looney Tunes?  Take some of these shapes and combine them with a color scheme from the cartoons and create a fresh look to your next western theme project.
Sizzix Bigz Coyote, Cactus and Roadrunner
Another one of my favorite scrapbook paper collections with a western motif is October Afternoon"s Sasparilla collection.  The graphic designs and fantastic colors make this collection look fresh and fun, too.
October Afternoon Big Sky scrapbook paper and Miscellany embellishments from October Afternoon Sasparilla Collection
The Sasparilla papers were used in part on the last projects shared here today.   SVG Cuts offers digital files to help you cut and create dimensional projects with your digital cutter.  If you have a digital cutter, like a Silhouette Cameo, Sizzix eClips, Pazzle, or other, check out this company"s selection of different shapes and projects.  These last western theme projects are from the Happy Trails collection.  The boot shown in this collection is a boy-like version of the pink boot Tamara Tripodi created for Carta Bella shown earlier.
Did you know how hard it is to research a trend and not immediately go shopping for each and every fun project I see?  Well, let me tell you I often cave in to my own trendy desires.  I hope you"ve found something inspiring to create this week or are ready to save up for the next fun trend or theme.  Kick your boots off and enjoy some crafting today!