Bling it On!
By: Katherine Elliot
Whether you"re out to make a bold statement or just add a little sparkle to a project, nothing says "look at me!" more than bling.  With Mother"s Day right around the corner, it"s the perfect embellishment to charm your mother, sister, or friend.  A little extra decoration can let her know how special she is…
image source:  onehappystamper.typepad.com, Cindy Lawrence
For something truly ornate, a rhinestone studded pattern adds a lot of pizzazz to any layer.  Nestabling, self adhesive crystals intended to follow the contours matching Nestablilities dies, could be just the ticket for easy placement and can add an extra star studded "Wow!" factor.
image source: simonsaystamp.com
A feminine swirl of pearls also adds an elegant touch.
Self adhesive jewel accents can be as detailed and dramatic as you want them to be.
image source:  Cibele Glazer at Flower Foot Designs
For a more subtle touch, even a small addition of bling can add beauty to a clean and simple card.  Self adhesive jewels and jewel brads are inexpensive and easy to find in a wide variety of colors, shapes and styles to suit your taste.
image source: emmielouwho.blogspot.com
Rhinestone Brads by Stampin" Up!
Pearls LIGHT BLUE ch169″ />Self adhesive pearls from Hero Arts
Big, dimensional bling can be a showstopper, and may only be a glue dot (or two) away.  For something more striking, an ornate button or an item from your stash of unused costume jewelry can make a card truly special.    image source Paperie Blooms,  Teresa Kline
A flower center is easily transformed into an incredible focal point
by a gorgeous, ornate button.  Create your own, or check out your local craft store"s jewelry aisle for even more options.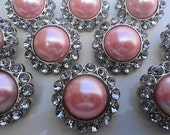 custom buttons by The Button Sisters
ornate, vintage Bazzill Buttons
image source: heartfelt creations
 Want something that sparkles but also easy to add to a card you may send in the mail?  Liquid shimmers come in a wide array of color choices.  Target an area or a layer to highlight, or spray your entire project to your heart"s content.  A little glimmer can go a long way.
Tattered Angels Glimmer Mist, image source: apieceofcraft.blogspot.com
Iridescent or sparkling dimensional glue can also give you the freedom to add simple sparkle in just the right place, form and shape.  Just leave plenty of dry time to prevent smearing.
Ranger Ink Liquid Pearls, image source: blockheadstamps.com
Dew Drops Diamonds, image source:  robertscrafts.com
A bold splash of bling or just hint of shimmer on your spring creations are just some of the options waiting for you.  Added bling is one of the easiest ways to step-up your project from simple, to simply breathtaking. Glitz or glimmer, bold or subtle, the choice is up to you.  No matter what you choose the options are endless, so…. Bling it On!