Trendy Tuesday – Weather Themes
by Katherine Elliot
While extreme and stormy weather makes news headlines, our thoughts and prayers go out to those affected by the severe forces of nature.  These are times we feel humbled by the dramatic force of nature rather than awestruck by its beauty.  At least the healing benefits of creative inspiration are not far away, and it"s no surprise that many of the latest paper crafts incorporate weather themes.  Today"s paper craft forecast is partly cloudy, but there are plenty of rays of sunshine in these talented artists" projects to inspire you.  Enjoy new stamp sets, products and embellishments to suit your fancy, too.
Card by Heather Hoffiman, image source Houses Built of Cards
Trendy sequins adorn Heather Hoffman"s beautiful card shown above and includes weather theme dies from Lil" Inker Designs.  You can find many fun shapes in this product line of steel rule dies, including sun, clouds and rainbows.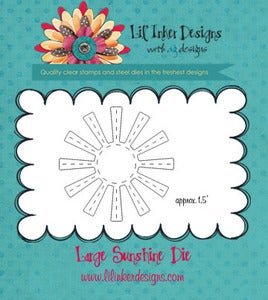 Sunshine die from Lil Inker Designs
Sun and cloud shapes can be paired with many favorite sentiments, like the cheerful card Dawn Easton created below using a new stamp set from a brand new company, Reverse Confetti.
Card by Dawn Easton featuring stamps from Reverse Confetti, image source Treasure Oiler Designz
 Scrapping an every day moment is a fun way to celebrate life, even something as simple as the rainy day puddle play shown in Deb Duty"s scrapbook page. Trendy weather themed wood chip embellishments from Freckled Fawn are featured on this fun loving page.
Puddles scrapbook page and image source from DebDuty.com
Freckled Fawn wood embellishments, image source Simon Says Stamp
Paper Crafts Connection recently featured many more products that have the weather theme in mind. Washi tape, stencils, punches and paper make up just a few more of the weather themed products out there.  Gray skies are gonna clear up when you work with any of these fun paper craft toys.
A multitude of cloudy themed products, image source Paper Crafts Connection
Find images suitable for all seasons and all kinds of weather like those found in stamp sets offered by companies like Lawn Fawn and Gina K Designs.
Card by Mariana Grigsby, image source Lawn Fawn.com
Lawn Fawn Partly Cloudy stamp set
Lee Murphy shows off a new stamp set and a great layout with awesome handcut and adhered embellishments in this rainy day card…
Card by Lee Murphy, image source My Reality, It"s All Good
Gina K Designs" new set, Weather or Not, includes more great combinations of sentiments and all the gear you"ll need to shelter your project from a rainy day.
Weather or Not stamp set from Gina K Designs 
Clouds in particular crop up in many projects as a signature weather theme shape.  Unique texture and patterns of cloud shapes make them particularly attractive in these projects featuring stamps and images from Unity Stamp Company and Stampin" Up!
Card by Jennifer Roach featuring Written in the Clouds stamp set from Unity Stamp Company
Treat bag by Peg Coombes featuring Stampin" Up!"s Cloudy Day embossing folder, and Rain or Shine stamp set, image source Peg Craft a Lot
Love this cloud paper from Simple Stories… Are these clouds cumulus, nimbus or what?  I don"t know which kind they are, but the colors and patterns on this paper could look splendid on many projects.
Feel the Breeze paper from Simple Stories, image source Two Peas in a Bucket
Last but not least, Lisa Johnson shares a wonderful uplifting card using many pretty weather shapes.  The sentiment she used comes from a stamp set she designed for My Favorite Things.  The sentiments coordinate beautifully with any type of project you have in mind to bring cheer to someone who may need a lift of spirits of simply feel under the weather.
Card by Lisa Johnson, featuring Rainbow Die-namics and sentiment from My Favorite Things, Cheerful Blessings, image source Poppy Paperie
A special thanks to all the creative talent featured on our Trendy Tuesday posts, both today and in past articles.  If you have been inspired by these projects, don"t forget to check out the links included below the images that will take you to any of the blogs and sites where you can share your appreciation, too.
May your day be filled with sunshine.  Happy crafting, everyone!