Watercolor
Technique trends offer fun ways to expand your creativity.  Watercolor techniques are some of the hottest coloring trends out there, so I'm excited to share some terrific examples from some extremely talented people showcasing this fun technique.  Take a look…
Card by Susie Wittwer, image source ProCraftination 
Using water based inks, markers, misters, aqua painters or water brushes will help you create beautiful swirls of color like shown on many of the cards featured today.  Stop by the artists' blog posts to find details on how they created their masterful works and the various tools they employed.
Card by Virginia Lu,  image source Virginia's View Challenge
Blending many shades of ink can give you a wonderful rainbow of color to display, or you can choose just a couple colors to create a water swirled landscape.  Heat embossed designs that will resist the color added to your project are also a favorite technique to combine with your watercolor effects.
Card by Jo Nevil, image source Splitcoast Stampers
Card featuring heat embossed stamp and faux watercolor technique using Distress Ink markers by Jennifer McGuire, image source Hero Arts
Card by Nicole Picadura, image source Scraps and Stamps
Card by Lyndal Higgins, image source Ideas and Paper
Precision may not be necessary when playing with a watercolor technique, but creating the perfect background can take some practice.  It can certainly help if you find some tools to  help make your project come together effortlessly.  Look for stamps like My Favorite Things' Watercolor Backdrops and Papertrey Ink's Watercolor Wonder that allow you to very easily ink up a perfectly painted shape.
Card by Cindy Lawrence featuring DC Watercolor Backdrops from My Favorite Things, image source The Creative Closet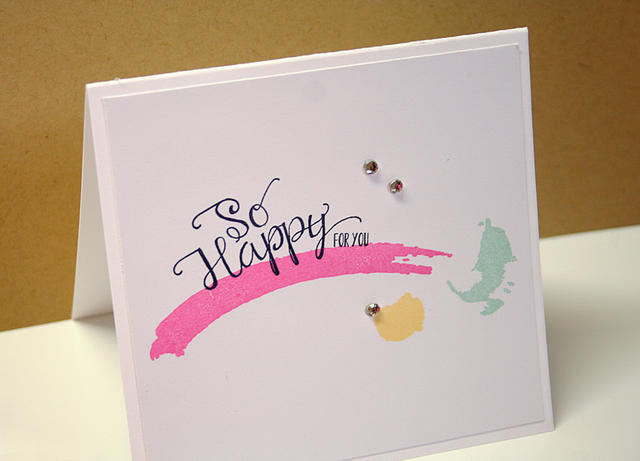 Card featuring PTI Watercolor Wonder stamp set, stamps and image source Papertrey Ink
Products can make a difference when you are playing with water and paper.  Look for watercolor paper or cardstock, aqua painters, and gelatos that can offer you some of the best results in the watercolor world.
Ranger Ink Tim Holtz Distress Watercolor Cardstock
Bonnie Klass' instructions on using re-inkers with a Stampin' Up! Aqua Painter, tutorial and image source Stamping with Klass
Faber Castell Gelatos, image source Simon Says Stamp
Scrapbook page by Emilia van den Heuvel featuring watercolor effects using Gelatos, image source Faber Castell Design Memory Craft
Drips, drops, smears of color make the most natural watercolor effects unique.  A stenciled patterned peaking through Chrissie Tobas' next card shows off more trendy effects you can use with this technique.
Card by Chrissie Tobas featuring stamps from Newton's Nook Designs, image source Harvest Moon Papiere
You can use your colorful watercolors as a background for many different springtime or any time occasions.
Card by Donna Mikasa, featuring stamps from Mama Elephant, image source Three Umbrellas
Spheres of  soft colors set very simply behind a bold sentiment on JJ Bolton's card below shows another unique way to play with watercolors.
Card by JJ Bolton, image source Ribbon Girls
Scrapbook pages and mixed media projects can also embrace the beauty of watercolor effects.  Your layouts and creations take on additional artistic qualities when you try any painterly effects and watercoloring is no exception.  Check out these beautiful examples…
Scrapbook page by Lisa Dickinson, image source Gettin' By, video tutorial at  Inspired, Two Peas in a Bucket
Scrapbook page by Bernii Miller, image source Weekend at Berniis
Mixed media Art Journal Page by Andrea Walford, video tutorial and image source The Art of Simple
By now most of us can sense the snow melting and rainy season approaching. Why not capture some of that moisture and turn it into something creative?!  Go ahead, give some watercolor techniques a try.  Happy crafting, everyone!