Trendy Tuesday – Washi Tape
by Katherine Elliot
Washi tape, what is it?   Essentially, it is decorative masking tape which is typically very thin, easy to tear off the roll and adhere to a project.  This is a simple product with lots of possibilities.  A wide assortment of decorative tapes come in an amazing array of colors, patterns, widths and styles to easily add flair to any project including cards, scrapbook pages, packaging and home decor.
 Colorful Japanese Washi tape from cutetape.com; image source cutetape.com
Black stripe tape, image source etsy.com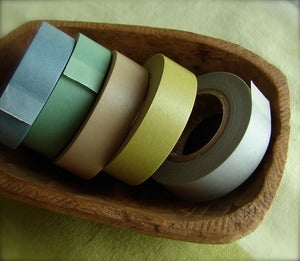 Solid color tape found at happytape.bigcartel.com
What can you do with this tape?  Tear off what you want to decorate just about anything.   Paper crafts are perfect of course, but you can expand your craftiness by adding some pretty tape to binder clips, packaging, and other projects around the house that are begging for a zing of color or your personal touch.
Washi tape decorated gift tags, instructions and image source found at happytape.blogspot.com
 Binder clips decorated with Japanese masking tape, image source cumbersome.com
Click on the links to the sites where I found these images to see more options on how to use Washi tape on many decorative projects.
A decorative touch on a travel journal with stamped tape, more ideas and image source from teaforjoy.blogspot.com
Pretty tape decorates a plain package beautifully.  More tape projects and image source at
  Decorate plain jars that hold your stash of embellishments, ribbons, buttons, or brads with some pretty tape – easy, peasy!
Decorated button jars, image source punkprojects.blogspot.com
Oh, and cards?  Why yes, of course cards are perfect candidates for a little Washi tape.  A strip of tape behind the tag is shown on the bottom of this very pretty card by Lori Barnett…
Image source Stamp Scents
Decorate a clean and simple card with an easy stripe or two of any bright or bold pattern tape, as seen in this card…
Clean and simple card by YLM, image source SplitcoastStampers.com
Companies very familiar to the paper craft community have some excellent decorative tapes which easily coordinate with other products they offer.  While they are not all tagged as "washi tape," they are similar in style, and can be fun additions to your cards or scrapbook pages.
My Minds Eye decorative tape shown above, image source twopeasinabucket.com
We R Memory Keepers Washi Tape, image source scrapbook.com
Is one pattern or one color on a role too restrictive for your creativity?  The Section Smash tape from K & Company gives you a lot of different options on your projects with it"s multiple styles and colors all on one roll.
K & Company Section Smash tape, image source twopeasinabucket.com 
Tim Holtz tissue tape is a popular decorative tape that comes in different translucent patterns.  Besides just adhering the tape flat on a project, see more ideas on how to create a tape flower or tape ruffle in Tim"s tissue tape ideas blog post from last year.
Tissue tape flower on tag project shown above, image source timholtz.typepad.com
Journeyman Tissue Tape, image source twopeasinabucket.com
 Of course, I must show you another cute little card that uses some Washi tape in a fashionable way- a couple torn, short strips accent the corner of this cheerful card…
Scooting By card image  from lovemytapes.blogspot.com
 For now, I"m short on time, so I"ve gotta scoot.  Enjoy and happy crafting!