Trendy Tuesday – Storage & Organization Tools
 Most crafting trends we share on Trendy Tuesdays are all about the designs, creations and hot products posted on the web and showcased in stores.  Today we"re focusing on a spin off industry catering to craft furniture and storage accessories.  These trendy products are designed to perfectly organize the many supplies we collect.  From a range of specialty furniture to simple storage solutions from the companies that sell your favorite supplies, here"s a glimpse and many links to finding some of the coolest ways to organize and beautify your craft space.
The Original Scrap Box company has a variety of storage furniture pieces that "store your stuff in style."  You can close the box and hide your things away, then open the box and access all your supplies at the storage center"s work station.
The Craft Box from The Original Scrapbox, image source Original Scrapbox.com
 Martha Stewart Living has a line of craft furniture and accessories available on-line, and some things available through your local store.  There are desks, paper organizers and cubbies that you can arrange to create that perfect craft space.
Martha Stewart Living Craft Space craft furniture image source Home Decorators.com
 If you don"t have the space for a large piece of craft furniture, there are many other tools to help you organize your space.  Simply Renee specializes in popular and versatile ways to store your clear stamps, stickers, ribbons, papers, and other tools, as seen in the Clip it Up systems below.
Clip It Up All-in-One organization system, image source Simply Renee Inc  
Clip it Up! Jumbo, image source flickr.com
One of my favorite storage tools, found in a variety of styles from different companies, are these amazing custom ink pad organizers.  Often you can find them in your choice of basic colors, or even unfinished so you can customize to match your craft space.  Most organizers hold a variety of ink pad brands (just check the dimensions and details).  Some include special features like the one shown below that hold coordinating markers and matching re-inker bottles.  You can find large ones (with a larger price tag, of course) or small ones that may better fit a smaller budget.
Wall Unit Plus for stampers, stamp pads, reinkers & markers storage, image source Storage Units Ink and More
12 Combo ink storage unit, image source Stamp-n Storage
Many of the same companies that make the inkpad organizers, offer similar storage devices for paper punches as well.
Punch holder, image from Stamp-n Storage
 Not to be forgotten are the accessories that are sold directly from the same manufacturers where you buy your favorite supplies.  Stampin" Up fans are probably familiar with SU!"s own line of stamp pad and embellishment organizers.  These look great on your desk at home, or displayed at your stamp club or party events.
Spinning Color Caddy from Stampin" Up! , image source Stampin" Up!
Stack & Store Caddy, image source Stampin" Up!
 Many brands have their own specialty storage caddies to help you organize your growing collection of their products (who can blame them, you know you"ll want to buy more than ONE stamp pad, cartridge or die, right?).
 Cricut Storage container, image source the Scrap Rack
Sizzix Sizzlits Accessory Plastic Storage case for Sizzlets, image source Sizzix.com
 Looking for the perfect solution to storing and accessing your expanding collection of steel rule dies?  Two easy ways to store them include the magnetic binder from Lifestyle Crafts and the new magnetic storage case from ArtBin (magnetic sheets for the ArtBin case are sold individually as well, so you can store a LOT of dies).
Magnetic die storage book from Lifestyle Crafts 
Art Bin Magnetic Storage case, image source ellenhutson.com
 Cropper Hopper has very functional tools to help store paper and items, and many of their products are also designed to help you travel with your supplies to crops and events.  Some of their newer products also have a decorative flair.  Don"t forget to embellish your craft space!
Cropper Hopper Designer storage, image source Cropper Hopper
 Stumped on how you could re-organize or re-design your craft space?  I am always on the look out for home decoration ideas, and I LOVE how many of our fellow paper crafters share the views of their work spaces.  I wish I could say my space looked as beautiful or as organized as these spaces, but check these out!
 Nichole Heady"s craft space, image source Creating Keepsakes
Featured craft space from Best Craft Organizer, image source Best Scrapbook Shelf.com 
 Don"t get discouraged if you think some of the furniture or systems shown are not available near you, or not in your budget.  There are creative ways to organize and store your supplies with many different, and less expensive kitchen or closet organization accessories found at your local big box home improvement centers. 
Punch & ribbon storage featuring Bygel rail system from IKEA.
image source Kerry"s Craft Blog 
 Jars, boxes, & some plain, open book shelves can help you create your own custom storage space.
Kim Assaly"s craft space, image source Riverfront Stampin.com
 The crafter below used her craftiness, with the help of some strong velcro,  to create her own Stickles Storage right above her work space!
 Stickles Storage using velcro, image source Two Peas in a Bucket project gallery
 Find more tips for organizing your craft space using every day closet organizers and accessories at Everything Etsy.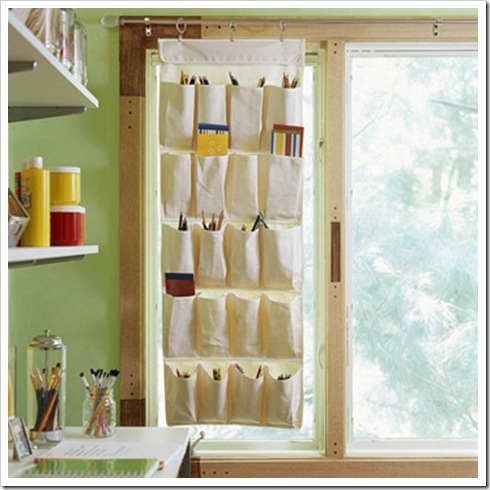 image source Everything Etsy.com
 Okay, after sharing these craft space images, I"m just turning green with envy.  I"ve got a few of the simple storage tools shown, and if I could clear off the pile of "works in progress" on my desk, maybe I could find room for something new.  My shoe holder in my closet does a nice job of holding my paper punches… but maybe it"s time to tidy up and try my hand at more storage beautification.  What"s your favorite storage tool? 
Hope you are inspired this week.  Happy organizing everyone!