Trendy Tuesday – Something Sketchy
by Katherine Elliot
Today's trend article was inspired from featured guest artist, Karolyn London, as seen in this post from the PCL blog.  Sketch-like line stamps can be similar to artistically inspired pen or pencil drawings or simple shaped doodles.  These fun images can make your project look hand drawn.  If you are sharing your project with the less crafty-informed types, then Shhh!  Your secret is safe with us!
Card by Karolyn Loncon, image source Papercrafters Library
Karolyn's card above features a sketched camera image from the Claudine Hellmuth stamp set So Retro.  Other brands offer some sketchy retro shapes, too, like the ones shown below from Hero Arts and Tim Holtz.
Cards featuring Hero Arts background stamps, image source Scrap Time
Hero Arts background stamp, Smile
Still in retro mode, Tim Holtz's line of sketch stamps may leave a younger audience wondering, what in the heck is a rotary dial telephone…?!  Tammy Tutterow's project below showcases wonderful texture and great coloring added to the phone sketch image.
Card by Tammy Tutterow, image source Tutorials for Inky Hands
Phone Sketch stamp from Tim Holtz, image source Stuff 4 Scrapbooking
Tim Holtz Industrial Blueprint stamp, image source 123 Stitch
Besides blueprint type line drawings, you can create colorful backgrounds that also look hand drawn by using sketch shaped stamps from Papertrey Ink.
Card by Erin Lincoln featuring Sketch Shapes stamp set from Papertrey Ink, card image source Procrastination Station
Card by Maile Belles featuring Sketched Shapes stamp set from Papertrey Ink, image source Simply Stamped
Stampin' Up! fans will also love to see some new sketch style stamps in the upcoming catalog, including an alphabet set that has that sketchy vibe as well.
Card by Justin Krieger featuring soon to be released stamps from Stampin' Up!, image source JK Cards
Casually drawn doodle type images and sentiments are also included in this trendy category.   Doodle style images and coordinating phrases look lighthearted and fun to play with.  Check out some of these options from companies such as Alley Way Stamps,  Lawn Fawn and Unity Stamp Company.
Card featuring  Lighter Than Air stamp set from Alley Way Stamps, image source The Alley Way Stamps blog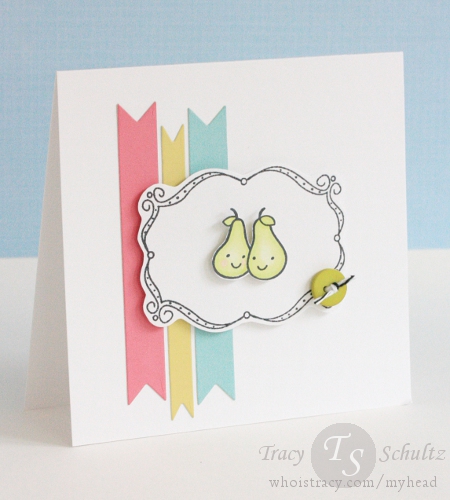 Happy Pears card by Tracy Schultz, featuring stamps from Lawn Fawn, image source Who is Tracy
My Silly Valentine stamp set from Lawn Fawn
Everyday Adorable, Unity Stamp Company
Perfect for spring projects, hand drawn doodle-like flowers can also be fun to color in on your next project.
It's Spring stamp set from Unity Stamp Company
Card by Angie Blom, image source Unity Stamp Company
Inspired this week?  I hope so.  Break out the sketchbook or just ink up one of these stamps and have fun creating.  Happy crafting, everyone!