Trendy Tuesday – Retro People
by Katherine Elliot
What is old is new again, how often that is the case for trends!   Today we"ll feature some oldies but goodies, retro people.  In reference to retro people, let"s clarify that I"m classifying these images as folks that appear to be from the stylish 1940″s, "50"s or "60"s.   Setting aside some likely differences of opinion on this categorization, images that look like they are from an older era seem more suitably considered "vintage."  The terms retro and vintage may be used interchangeably, but there seems to be a different style to what is "retro."  It"s also a good excuse to highlight older vintage images at a later time!   😉
Take a look at these very cool crafts and cards using some fantastic retro people…
Card by Lee Ann Barrett, image source Splitcoast Stampers
Lee Ann"s card above used Style Girl from Pink Persimmon Stamps that is reminiscent of those lovely drawn models found on classic dress patterns.  Oh how I wish that I"d kept a few of those patterns that my great aunt and grandmother had in their mass of sewing supplies, if for no other reason but to re-purpose the packaging into a great card like Lee Ann"s!
Style Girl stamp set from Pink Persimmon Stamps
Card and tag by Denise January featuring Hello Vintage Girl, image source Pink Persimmon Stamps
Another top retro people pick are graphic stamps from Riley & Company. Riley & Co. came out with a complete line of .  Riley"s retro people stamps look great paired with some of the hilarious sentiment stamps also offered by their company.  Here are just a few of examples I found from some of the talented Riley & Company designers…
Card by Cindy Haffner, image source Cindy Haffner"s Corner
True Friends card by Frances Byrne, image source Stamp Owl"s Studio
Coffee gift project by Laurie Clout, image source On the Bright Side
 Keep on smiling with a few more images and witty sentiments to match offered on these fun retro people stamp sets from Unity Stamp Company.  
Card by Angie Blom featuring stamp set Gossip, Hot Flashes & Crazy, image source Unity Stamp Company
Tenia Nelson"s card below featuring a trendy retro guy from a Unity Stamp set had me grinning instantly.  I swear someone from my office must have modeled for this stamp!
Card by Tenia Nelson featuring Hey Stud stamp from Unity Stamp Company, image source Jazzy Paper Designs
 Bombshell Stamps also offers some classic pin up style images that you can dress up (or down) to custom fit for your project. 
Card by Monika Franziska featuring Bombshell Angel, image source Bombshell Stamps blog
Send yourself back to the future to the golden age of the space race or to the era of classic tv sci-fi with this fun image from Hero Arts…
Card by Noelle McAdams, image source Paper & Ice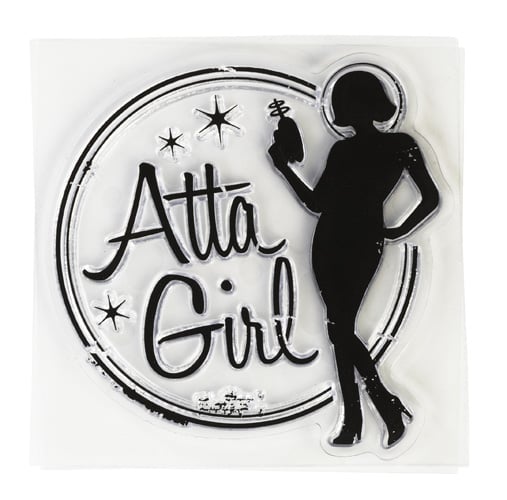 Hero Arts Atta Girl stamp, image source Scrapbook.com
Find ready to cut or paste images with retro people elements, patterned paper, and stickers in designs from October Afternoon and Melissa Frances.
October Afternoon Sidewalks Miscellany 
Card by Vivian Masket featuring Midway Collection paper, image source October Afternoon blog
October Afternoon Photo Booth paper, from Midway Collection, image source Two Peas in a Bucket
Digital images with a retro vibe can also be found to be used on your projects.  Check out the amazing library of images from sources like the Graphics Fairy and other digital scrapbook design on-line stores.
Card by Fit Kitty featuring image from the Graphics Fairy, image source KT Designs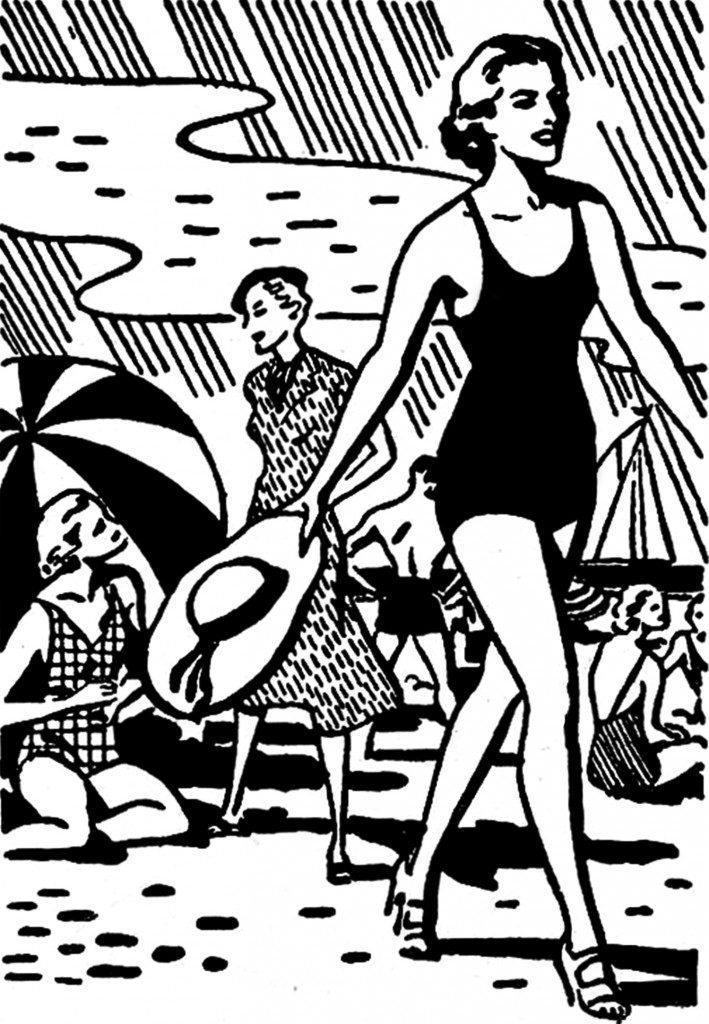 Retro image from the Graphics Fairy
Digital kits combine the best of both worlds, old images you can use with the latest computer graphics and combine with some of the latest crafty designs and trends.
Digital art journal page by Susan McCarley, image source Two Peas in a Bucket Gallery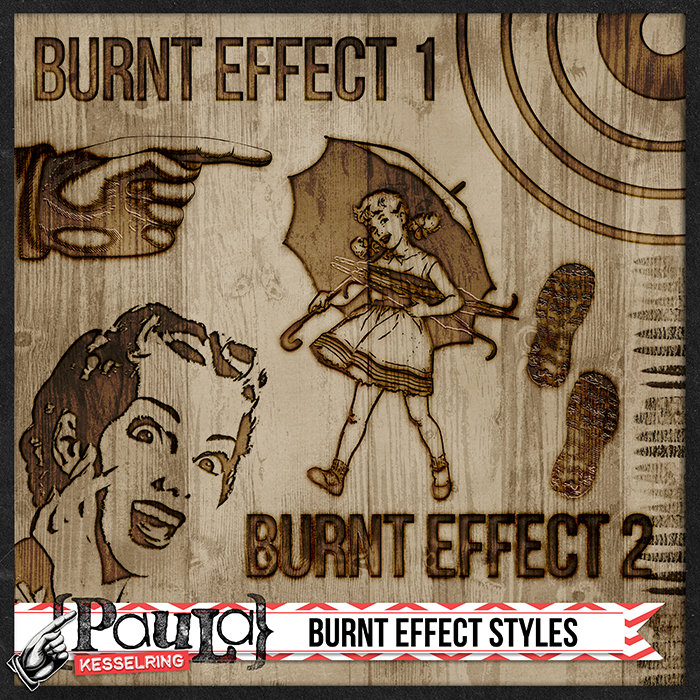 Paula Kesselring Burnt Effect Styles Digital Kit
Fluent in Sarcasm Digital Kit from Captivated Visions, image source Studio Girls Scrapbook Graphics
Digital scrapbook page featuring Captivated Visions" Fluent in Sarcasm kit, image Studio Girls Scrapbook Graphics
The combination of old and new images lets your project take on a timeless quality.  Go classy and elegant or bold and modern using these images and you"re sure to have one very trendy creation.  Hope you smiled your way through reading this post featuring all the talented designs and witticisms.  Keep smiling and happy crafting, everyone!