Trendy Tuesday – Pretty Paper Doilies
Full of feminine grace, the delicate doily is a lovely decoration for many occasions.  From romantic Valentines to any project that could use a pretty textured layer, you can find doilies adorning many trendy projects lately.  Here's a few projects to be inspired by and to enjoy…
French Lace Paper Doilies from the Paper Mart
Doilies are easy to use on their own to decorate a pretty package or vase, but they are increasingly popular to use as embellished layers on cards.
Card by Alice Wertz, featuring stamps from Mama Elephant, image source Mama Elephant blog
Center and show off the entire lace edged doily or crop it and adhere just a portion to your card or project for additional interest.
Card by Lauren Taylor, featuring stamps from Paper Smooches, image source Lauren Taylor Made and  Stamp Fever
Card by Gillian Ross,  image source Made with Sparkle
Adorn your doily decoration with more feminine images and embellishments, like beautiful flowers, pearls and ribbon and you are sure to impress any deserving female friend.  Frilly can be fabulous for someone special and that's exactly what these next cards are, absolutely fabulous with some stitched edging as well as pretty twine and flowers.
Card by Kathy Montgomery, featuring stamps from Lili of the Valley, image source In My Little Korner
Card by Jessica Fick, featuring stamps from The Craft's Meow, image source iEmbellish
Find different sizes and shapes of paper doilies to add to your projects at your local craft store,  favorite on-line store, or direct marketing retailer.
Bo Bunny small doilies, image source Scrapbook Express
Heart shaped doilies from Royal Lace, image source JoAnn Crafts
The traditional doily comes ready made with a pretty texture and design, but that doesn't mean you have to shy away from textures and shapes on your project.   Show off other shapes like hexagons, triangles and arrows with your doily layer for more trendy effects.  
 Card by Bronwyn Eastley, featuring hexagon embossing folder from Stampin' Up!,  image source addINKtive designs
Card by Rae Harper-Burnet, image source Wild West Paper Arts
Create your own doilies with your favorite cardstock using any of the fun paper craft tools available today.  Punches, diecuts and stamps in a variety of doily designs are they key to a completely DIY craft project.
Martha Stewart Circle Edge Punch Eyelet Doily, image source Scrapbook.com
Scrapbook page by Jodi Baune featuring mini doilies from Cheery Lynn Designs by Jodi Baune, image source Dancing in the Rain
Die-namics Doily die by My Favorite Things
 Unity Company Bella Doilies stamp set, image source Unity Stamp Co.
Doily stamps come in a variety of sizes, both great and small, and can be useful as focal points as well as subtle background shapes.
Lace Doily rubber stamp from Great Impressions Stamps  
Card by Erin Taylor, featuring Lace Doily from Great Impressions Stamps, image source Erin Taylor Designs
 Large paper doilies can be folded and shaped to use for other fun craft projects.  Create your own place cards, decorate special treats, or create frilly decorations for a wedding or baby shower using white or colored doilies.  It's an easy yet fancy touch you can use for the festive occasion.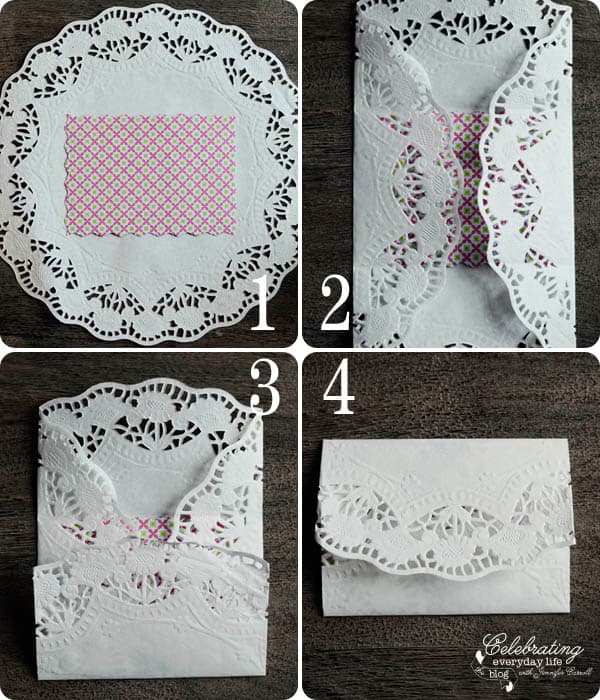 Doily envelope and instructions by Jennifer Carroll, image source from Celebrating Everyday Life 
Dyed doilies decorating treat and favor boxes by Molly, instructions and image source Crafty Monday
Paper doily flowers by Amanda Coleman, tutorial and image source Popper and Mimi 
Anyone else remember the days when you got out the old glue stick and attached a pretty doily to a shoe box with a slit on the top all decorated to receive Valentine greetings in school?   The doily has come a long way since then, and likely so have your crafting skills.  Doilies can be frilly, fancy and fabulous.  Go ahead, embrace the frills of a pretty doily.  Happy crafting and have a very Happy Valentines Day!