Trendy Tuesday – Owls, What a Hoot!
by Katherine Elliot
Owls are popular birds on paper crafts today and it"s easy to see why.  Owls can be cute, distinctive, and it"s hard to escape those big eyes!  Dress them up for any occasion to create a fun image for your project.
Card by Carolyn King, featuring Birthday Hoot stamp duo from Gina K Designs, image source My Blog by Cammie
Card by Debby Hughes, featuring You"re a Hoot stamp from Clearly Besotted Stamps, image source Lime Doodle
Hootenany card by Melissa Haas featuring digital stamp by Fun "n Flair Stamps, image source Doxie Mel Designs
I"m always a fan of stamp sets that include coordinating sentiments, and these sets from Unity Stamp Company and Sweet "n Sassy stamps are just a couple of examples with great sayings to pair with a wise cracking owl.
Feelin" Owl-y stamp set from Unity Stamp Company
Feelin" Owl-y Thank You card by Stephanie Muzzulin, image source Unity Stamp Company
Owl Be There stamp set from Sweet "n Sassy Stamps
Card by Korin Sutherland featuring stamps from Sweet "n Sassy Stamps, image source Splitcoast Stampers
Looking for a more realistic, classic owl image for a project?  The Literary Owl stamp from Stampendous may suit your needs for the more serious or studious person in your life.   It may also go well for a project with a Harry Potter theme, don"t you think?
Literary Owl stamp from Stampendous
       Literary Owl card, image source Stampendous.com
Besides stamps, there are other tools and embellishments that are well suited to owl projects.  The Owl builder punch from Stampin" Up! has many different uses.  Just do a search for "punch art" and you are sure to find this punch used in many different ways to create different animals (penguins, bats, just to name a couple).  Of course, the owl image you can create with it is fun and versatile as is.
Owl Wedding card by Julie Olivier featuring Stampin" Up Owl Builder punch, image source Made with Paper
Owl Punch from Stampin" Up!
An electronic cutter can also come in handy to create an owl shaped card.  The body type of the Silhouette Graduation Owl closely resembles the Stampin" Up! Owl punch.  On a larger scale, the owl looks like a lot of fun to create and decorate.
Graduation Owl shaped card by Michelle Kovack, featuring Just Rite stamps and , image source Thoughts of a Cardmaking Scrapbooker
Hunting for some smaller owl embellishments for your projects?  Check out these trendy wood die cuts from Prima Marketing or stickers from Jolee"s Boutique.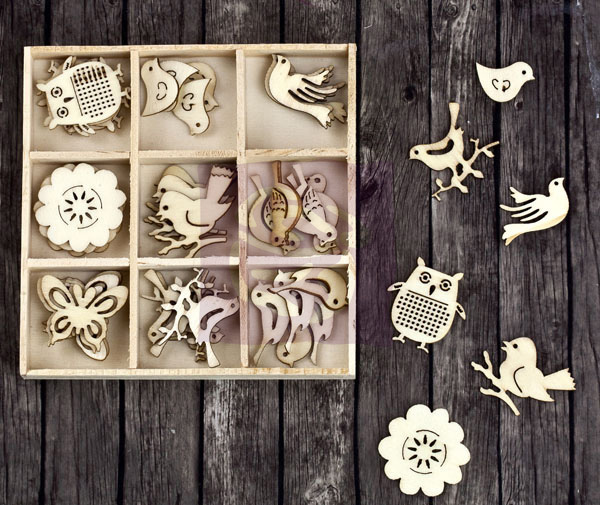 Wood Icons in a Box, Birds and Owls from Prima Marketing Inc.
Jolee"s Boutique Steampunk Owl stickers, image source eksuccess.com
Steampunk Owl Canvases by Beverly G, image source Gott Art
 The scrapbook page below includes some different owl images incorporating some digital images as well as a beautiful feather.  This project with the delicate feather embellishment would have fit in nicely with our previous Feather trend article, too.
Scrapbook page by Dawn Inskip, featuring digital images from the Owl Kingdom Collection, image source Studio Girls Scrapbookgraphics
It"s delightful to discover other craft projects when researching our trend articles for Paper Crafters Library.  The owl is a popular bird for other crafty pursuits, too, so enjoy a few more images including some felt and fabric projects that look like fun to try…
Owl decoration by Erin Bassett featuring Basically Bare Stack-a-Bellies Chipboard & Felt Owl, image source Basically Bare Design Blog
Basically Bare Stack-a-Bellies, image source Scrapbook.com
Fabric Owl Bag, image source FiskarCrafts.com
 Feathery Owl HeatnBond phone case by Audrey Pettit, image source therm.o.web.com
I hope you enjoyed today"s post.  Owl be on the look out for more trendy inspiration for next week, so wish me good hunting!   Happy crafting, everyone.