Trendy Tuesday – Dimensional Ornaments
by Katherine Elliot
"Tis the season… if you haven"t already started your Christmas crafts, then often this is the time of year you"ll be in full swing making holiday cards, tags, and maybe your very own Christmas ornaments!  Ornaments are a fun way to personalize your tree, and are also fun to make as handmade gifts.  There are many different shapes and sizes, and they can be as detailed or as simple as you want.  Check out these great examples of some of the latest trends and some time honored styles of paper crafted ornaments…
Paper Angel ornaments by Kay Kaltoff, image source Stamping to Share
Layered ornament by Kay Kaltoff, Stamping to Share
You can use a variety of cardstock, patterned papers, ribbons, punches and dies to layer, fold, and embellish your way into some amazing creations.
Honeycomb ornament and tutorial by Becca Feeken, image source & instructions found at Splitcoast Stampers
Ornament shape punches and dies help you create simple or multi-layered dimensional ornaments.  Spellbinders, My Favorite Things, and Stampin" Up!, just to name a few brands, have dies of various sizes and shapes you can use to create ornaments like these…
 3-D Heirloom Ornament by Michelle Woerner, image source Spellbinders Paper Arts
Stampin" Up! dimensional ornament, image source and instructions from Elaine Uhl at Create n" Stamp with Elaine
Steel rule ornament dies from Spellbinders Paper Arts
Die-namics Ornament dies from My Favorite Things
 Ornate layers of any unique cut shapes with additional beaded accents combine to be elegant and festive decorations. Check out this elaborate dangling ornament using several different shapes…
Ornaments by Diana Nguyen image source Splitcoast Stampers
For something a little more simple, but just as elegant, a few folded shapes of solid and glittered cardstock adhered together make a beautiful snowflake ornament…
 Stampin" Up! Framelits and snowflake die ornament by Kirsteen Gill image source Creatin" with Kirsteen
Quilling, the fine art of coiling and shaping strips of paper, used by some very skilled artisans creates beautiful paper snowflakes.  These are perfect for hanging on a tree or can be used in other long lasting winter decorations.  I"ve even noticed these kind of beautiful quilled snowflakes decorating the pages of holiday catalogs that are now flooding my mailbox…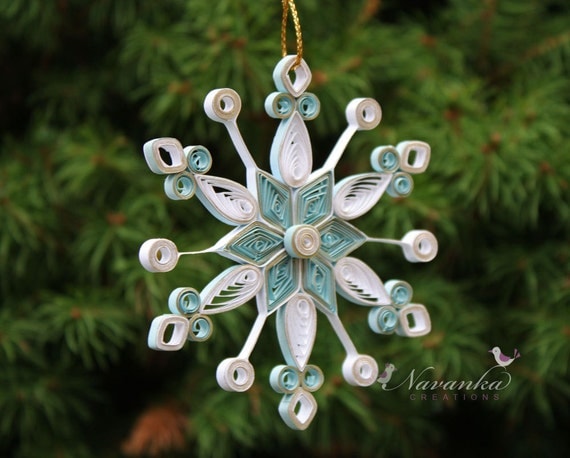 Quilled ornament by Navanka Creations
Perhaps simpler paper folding techniques are more practical for some of us DIY"s… This example of a beautifully folded paper heart could be great heading into Valentine season as well.  It"s also a great design to use up some patterned paper scraps…
Heart ornament and image source from Reese Dixon
Leftover patterned paper scraps come in handy when making an ornament like this creation, too…
Dannie Graves ornament and other handmade examples, image source Holy Jeans and My Favorite Things
If cutting and preparing scraps by hand may take more time than you think you have this season, Sizzix also makes a die that can help create a dimensional ornament like this one…
Sizzix 3-D Circle ornament die, image source Sizzix.com
While paper can create lovely lightweight ornaments, other dimensional decorations are fun to personalize with your own embellishments and paper accents, too.  A decorated miniature frame was re-purposed as a very pretty ornament in the example below…
Handmade Holiday decorated frame ornament by Ivana Camdzic, image source Paper Girl Crafts 
Three dimensional, ornate ornaments are stunning creations, no doubt…but there"s also nothing wrong with the perfectly practical 2-D type ornaments you can make with your stamps and punches as well…
Sledding Ornament from Flourishes
 Ah, sometimes simple is better (and do-able in a jiffy!)…
Simple, rhinestone studded tree ornament,  image source Interior Design Room 2012-2013
Of course for those that may not have time to create a tree filled with handmade ornaments (yeah, I had that dream one year, it"s still a work in progress…), decorating a card with a dimensional ornament may offer you a chance to wow someone special.  This style of card has been very popular lately, and it"s easy to see why… this is a beautiful Christmas card!
Card with dimensional ornament by Mel Sharp, image source A Stamp Addiction
Hope you enjoyed seeing some cheerful holiday ornaments this week.  Happy crafting everyone!