Trendy Tuesday – It"s About Time…
by Katherine Elliot
The daylight savings time change is brutal where I live.  Changing the clock to "spring forward" an hour is never easy, at least when you have to get up early to walk the dog in the darkest hour of the morning to get ready for work.  So while I have felt sleep deprived for a week or so,  I had plenty of timely inspiration – clocks.  The traditional clock face makes a great background or focal point for your paper crafts.  Take a look at some of these options using a variety of stamp sets and embellishments for clock and time oriented project ideas…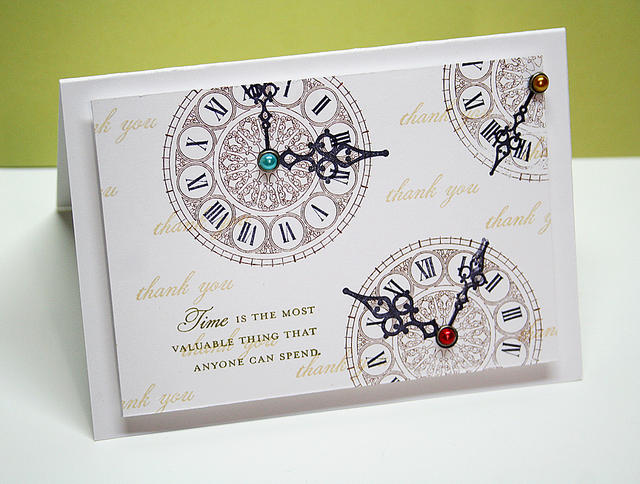 Card using Hands of Time stamp set from Papertrey Ink, image source Papertrey Ink.com
Card by Teneale Williams using Stampin" Up! sets, Clockworks and From the Heart, image source Teneale Williams.com
You can find many occasions to use clocks and time-oriented images and sentiments.  A variety of projects including diaries, journals, scrapbooks as well as cards offer lots of ways to explore your creativity in any time zone.
Pocket Diary by Sharon Ngoo, image source Glooshmoo
Add interest using metal clock face embellishments, like those from Prima Marketing and Tim Holtz Idea-ology.
Prima Marketing Mechanicals image source Scrapbook.com
XOXO Scrapbook page by Magda Bolinka, image source Prima Marketing 
Tim Holtz Idea-ology Metal Embellishments, image source Create for Less
Mix other metal embellishments with a traditional Roman numeral clock image and you have an instant, vintage inspired project with a chic twist.
Decorated tin using metal embellishments by Gayle James, image source The Stamp Attic
Even the dreaded alarm clock looks attractive when used on a fun paper craft.  The birthday cards shown below use a classic alarm clock shape die from Sizzix.
Card  by Jan Hobbins featuring Sizzix Bigz Tick Tock die, image source In My Own Imagination
Birthday tag by Laura O"Donnell, image source It"s All Rosie
Laura"s tag shown above also used the Hero Arts background stamp, Time to Stamp.
Hero Arts Time to Stamp, image source Hero Arts.com
Quick additions, like small or large chipboard clocks, can make it easy to embellish a project, too.
Chipboard clocks from Jenni Bowlin Design
Scrapbook page by Lisa Dickinson, image source  Two Peas in a Bucket
Scrapbook page by Valerie Serfozo featuring Blue Fern Studios chipboard floral clock, image source A Cherry on Top Gallery
Sentiments about time are hard to pass up.  The new stamp set by Ali Edwards for Technique Tuesday with classic quotes in modern fonts and shapes quickly went on my wish list.
Dear Time stamp set, image and stamp from Technique Tuesday
Scrapbook page by Daniela Dobson, image source Technique Tuesday
Leave it to Graphic 45 to offer some stylish vintage inspired images, too.
Card featuring Graphic45 Time Flies by Rachael, image source Rachael"s Handmade Design
Another classic pocket watch looks great on this card by Barbara Anders using stamps from My Favorite Things.
Card by Barbara Anders featuring stamp set Inspired by Time from My Favorite Things, image source Paper Pursuits
Looking for something even more unique?  For those of you with an electronic cutter, the Cutting Cafe offers a fun clock shaped card.  The download includes the shapes and digital stamps needed to make a fun card like the one shown here by Regina Easter…
Alarm Clock card using Cutting Cafe template by Regina Easter, image source The Cutting Cafe

The ambitious crafter with a penchant for home decor may even want to try their hand making their very own clock wall decoration.  Large scale clocks you find in home decorating magazines can be recreated more affordably using your own crafting skills and a clock kit.
Clock created by Lisa Tutman-Oglesby, image source Celebrate Creativity
Make some time today to create something fun, or plan your days ahead to fit some of these time themed projects into your schedule.  You may find that time quickly flies when you are crafting, but I think we can all agree it is time well spent!
Enjoy and Happy Crafting!