Trendy Tuesday – Felt
by Katherine Elliot
Soft and fuzzy, like a favorite teddy bear, felt can be a wonderful addition to your paper craft projects.  Use your scissors or a favorite die to create felt shapes to embellish a project and you have something beautiful and fun to touch.   Felt can be found at any of your favorite craft stores, as well as at on-line retailers.  Some brands, like Papertrey Ink, offer colors intended to match your other favorite paper craft products.
Papertrey Ink felt shown above, image source
 Felt is made in as wide a variety of colors as your favorite cardstock.  You can combine traditional colors, or non-traditional colors to make some very pretty holiday cards like the one shown below…
Jolly Christmas card by Debbie Olson, complete instructions and image source HGTV.com
 Simply cut, felt is a wonderful soft, textural addition to use with any of your favorite trends.  The felt shown in the next card combines more Trendy Tuesday favorites, banners and baker"s twine.
Joy to the World card by Debbie Olson, image source HGTV.com
Die cut felt shapes make wonderful embellishments.  Cut flowers, frames, shapes, and letters using your favorite dies with felt then adhere the shapes on other traditional paper layers to create a project that can really stand out.
Thank You card by Kalyn Kepner, image source paper is love
Felt frame card by Danielle Flanders, image source Homespun with Heart
Felt letters with felt flower card by Lisa Adessa, image source I"m in Haven
A die cut cloud softly floats above the main image in the card below…
 Felt cloud card by Lori Tecler, image source Inking Aloud
Change it up by using some soft embellishments instead of plastic or metal ones,  like the felt buttons shown in the card below…
Felt button card by Carla Schauer, image source Carla Schauer Designs
 You can be very creative making your own shapes with felt.  Remember felt craft projects from elementary school?  Now that you are grown up, you can get a "do-over" and make something you are really proud of!  Felt stitched layers look super cute, like the sweet little owl Kalyn Kepner created for her project shown below…
 Stitched felt card by Kalyn Kepner, image source paper is love
 Popular companies, like Papertrey Ink and My Favorite Things, offer colored felt you can buy to match your project, and other companies, like Stampin" Up!,  Prima and American Crafts offer pre-made felt shapes to add to your projects.
Stampin" Up! stitched felt accent card by Julie Davison, image source Julie"s Stamping Spot
Prima felt flower embellishments, image source Scrapbook.com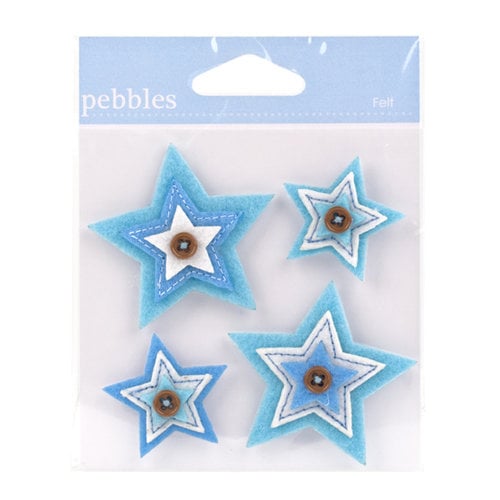 American Crafts felt accents, image source Scrapbook.com
 Whether you are crafting for the holidays or any other occasion, adding felt is a great way to add a soft touch to a card for someone special.  I feel all warm and fuzzy inside just looking at these beautiful projects…
Peace card by Karen Motz, image source
Felt flower birthday card by Judi Collins, image source Stampingalatte
Now I"m ready to try my hand at a few felt things, how about you?
Hope you enjoyed today"s post.  Keep crafting everyone!