Embroidered Designs
I will never cease to be amazed with sewing on cards.   Elaborate designs, or even simple sewn patterns, make any project one of a kind.  You are sure to impress anyone who receives a hand sewn creation.  Today, many paper crafters are inspired by embroidery patterns and even add embroidered designs to their creations.  There are on-line sources to help you find patterns and paper craft tools to make these techniques easier to achieve on your cards or scrapbook layouts.  Check out today's featured projects and get ready to be inspired to give it a try…
Card and stitching template by Nicola Pravato, image source nexttonicx.com
Nicola Pravato's Happy Birthday card shows off festive threads and lots and lots of stitches.  She has a terrific template to help guide you to creating your own version of her beautiful card.  If you need some help with some basic hand embroidery skills, tools, or patterns you can also check out sites like Mary Corbet's Needle n' Thread and About Crafty Ferret.
Judith Drew offers creative patterns and designs for many different levels of sewing skills and patience.  Check out her wonderful work…
Cards & patterns from Judith Drew, image source, downloads and instructions found at her site, About Crafty Ferret
Searching on-line you'll find a lot of pattern choices, including simple print and paste designs.  Add a little country charm to your project with something like the rooster print found at the Graphics Fairy.   You can find even more free patterns at Stitching Cards.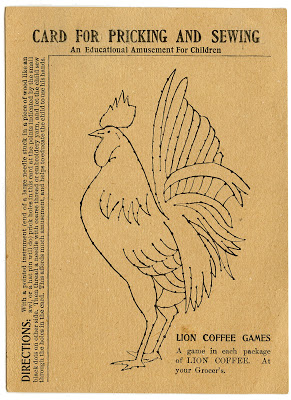 Graphics Fairy Rooster Embroidery Pattern
 You can also find ready to sew kits, projects, stamps and tools to help create a variety of of embroidered, cross-stitched or other sewing pattern projects.
Calendar Kit by Heather Lims, image source If It's Hip It's Here
Papertrey Ink has several embroidery inspired stamp sets to ink your way to a picture perfect project.  Stitches & Swirls stamp set is inspired by classic floral and swirl patterns that remind me of the patterns my mom used to create beautiful, hand sewn table linens.   Stitched with Love stamp set includes an embroidery hoop and even has a coordinating die set.  Carol used Papertrey Ink stamps and dies, including the Stitched Sentiments set, to create this pretty card.
Card by Carol, featuring Stitched Sentiments stamp set from Papertrey Ink, image source Inky Fingers
Nancy Penir shows off another terrific way to combine stamps and embroidery.  She stamped some linen with ink and stamps from Papertrey Ink's Rosie Posie stamp set then added beautiful hand stitching.  What a beautiful, hand made creation!
Card by Nancy Penir, image source Artful Notions
Karolyn Loncon also created a lovely, embroidery inspired Thank You card using stamps from Mama Elephant.  She created her cardstock embroidery hoop using her Silhouette Cameo, what a perfect touch!
Card by Karolyn Loncon, featuring Mama Elephant, Stitches stamp set, image source Mama Elephant blog
Craft companies, like WeR Memory Keepers, and Amy Tangerine for American Crafts, have additional embroidery and sewing tools to lend a helping hand when you want it, too.
WeRMemory Keepers Sew Easy tool, image Scrapbook.com
WeRMemory Keepers Sew Easy Templates, image WeR Memory Keepers
Amy Tangerine Embroidery Stencil Kit, image source Two Peas in a Bucket
Thread Kit for embroidery kits from Amy Tangerine, image source Scrapbook.com
Amy Tangerine has a variety of stencil kits to choose from as well.  Check out her blog and other on-line galleries to see what people are doing with the hand sewn patterns in scrapbooks, Project Life kits, and other trend-filled projects.
 Amy Tangerine Embroidery Stencil Kit projects, image source Amy Tangerine.com 
Last but not least, embroidery hoops found in your local craft store should not be overlooked.  Not only can a hoop serve as a creative frame for a home decor project, Katie Enzenberger, The Casual Craftlete, repurposed a miniature hoop as a fun way to package a sweet little gift card… check this out…
Gift Card Embroidery Hoop project by Katie Enzenberger, image source The Casual Craftlete
You can always keep it simple with some straight stitches to make it fun and satisfying to add just a little hand sewn embellishment to your project.  Pierce holes, grab some thread and sew. Yes, it can be that easy!   Thank you so much for reading our Trendy Tuesday posts and keeping up with all the wonderful ideas shared here on the Paper Crafter's Library.  I've thoroughly enjoyed researching and sharing the creative artists' projects and products I've found and hope you'll send some of these folks some love, too. Happy crafting, everyone!