Trendy Tuesday – All About Dad
by Katherine Elliot
Masculine theme cards abound this time of year as we approach father's day.  I have friends that say they have a difficult time making "man cards."   Fortunately it was my experience that dad was always pleased with anything hand made.  So even if you feel you struggle with a macho style, never fear making a card for dad or the father figure in your life.  Today I've pulled out some of my favorite images celebrating fathers and masculine themes.  Many of the projects highlight trends from previous Trendy Tuesday articles.  You can use today's post to review some articles you may have missed, just look for the hyperlink words as you read along.
The chalkboard style is still a hit with many stampers and that style works great for a masculine theme card.  Check out Joan Erwin's card with a sentiment that says it all.  Her card features a new stamp from Taylored Expressions that is perfect for the chalkboard style.  Gotta love that chevron touch as well, as those shapes are still very hot.
Card by Joan Erwin, featuring  Graphic Greetings, Dad, stamp from Taylored Expressions, image source Stamping with a Passion
Clocks and time pieces are a trendy theme and the images can create a great background for that dependable man in your life.   Shani Thomas created a detailed, time-honored card using images from Inspired by Stamping.
Card by Shani Thomas, featuring stamps from Inspired by Stamping, image source Paperesse
Go ahead, dare to make dad cry with a sentimental silhouette style card like the one Christine Okken created using stamps from Flourishes.  A couple wood buttons also make great manly accents on her card.
Card by Christine Okken, featuring stamps from Flourishes, image source Christine Creations
Father's Day stamp set from Flourishes
Rustic charm and a fishing theme decorate this next card created by Makiko Jones featuring another Fathers Day stamp set from Flourishes, What a Catch.
Card by Makiko Jones, image source Flourishes gallery
What a Catch stamp set from Flourishes
More fish decorate this next card using a background stamp from Unity Stamp Company.  The straight forward layout incorporates some distressing, brads and twine, all great details to add to a masculine style card.
Card by Lisa Henke, featuring Somethin' is Fishy stamp from Unity Stamp Company
Images with a sketchy vibe look very hip on this next project perfect for any occasion for the handy man in your life.
Card by Angie Blom, image source Unity Stamp Company
Alex Guy stamp set from Unity Stamp Company
More tools, some cool dots, and a wrench charm tied to the string on this card by Chris Veneruso show details that would surely impress dad.
Card by Chris Veneruso, featuring images from Paper Pretties' set Handyman, image source Easily Amused
The Handyman stamp set from Paper Pretties includes many great man-themed images and sentiments.
Paper Pretties stamp set Handyman
Hard to forget the golf fanatic this time of year, too.  Dawn Easton's card looks clean and simply "par-fect." What a great card to include some banners that are still very popular, too.
Card by Dawn Easton, featuring stamps from Taylored Expressions,  image source Treasure Oiler Designz
The Boys Will Be Boys stamp set that Dawn Easton used is another set that includes a wide variety of images and sentiments.
Boys Will Be Boys stamp set from Taylored Expressions
The witty, yet slightly more formal father figure, may just love a chic, bright card like Mary Fish's card below.  The little mustache and tie looks super sweet.
Card by Mary Fish, featuring stamps and papers from Stampin' Up!, image source Stampin' Pretty
Lines and graphic shapes are great for any style masculine card.  Cathee Anderson created a mini-album that shows off several fresh shapes and colors from Stampin' Up!  She used a fun tutorial from studionoeight for her project. The trendy arrows help focus your attention on the man of honor.
Father's Day mini album by Cathee Anderson, image source My Life in Color
It's a couch potato's delight with this next stamp set from Papertrey Ink.  You don't have to be a dad to appreciate this one… this has my brother written all over it…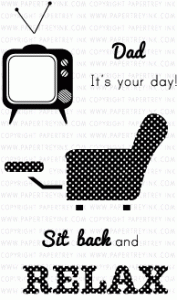 Polka Dot Parade #3 stamp set from Papertrey Ink
And who says that polka dots are not manly?  They look great on Heather Nichols card below.
Card by Heather Nichols, featuring stamps and die from Papertrey Ink, image source Pine is Here
Hope you had a chance to sit and relax while you read today's post and revisited a few of our previous ones.  Enjoy creating for the man in your life.  Happy crafting, everyone!